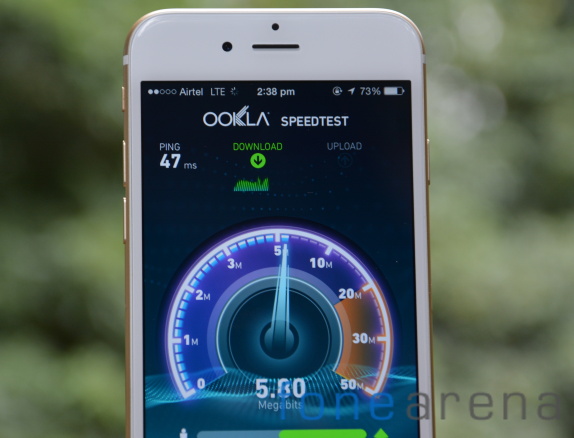 Apple's latest flagship smartphone, the iPhone 6 was announced a couple of weeks ago and is now available in India. The good news for all the folks who are planning to pick up the device is that iPhone 6 comes with 4G LTE enabled.
We took the device for a spin in order to test what speeds it can achieve on the LTE network. We were in Bangalore and we used Airtel as our carrier. We tested the speeds across various destinations in the city and we were surprised with the overall result.
Apple iPhone 6 was capable of handling 40Mbps download without any hassle. The average speed on Airtel's LTE network was about 20Mbps, which is quite impressive. However, the upload speeds weren't the greatest – with 4Mbps being the quickest.

If you own an iPhone 6 and if you have 4G LTE service in your location, then you will enjoy your time on the internet.
At the moment, there are only two carriers offering 4G LTE services in India – Airtel and Aircel. If you are based out of Bangalore, Chandigarh, Mohali, Panchkula, Ludhiana, Jalandhar, Kolkata, Amritsar, Kapurthala, Phagwara, Hoshiarpur, Nagpur, Patiala, Pune or Nasik then you can make use of Airtel's service and if you are placed in Andhra Pradesh, Assam, Bihar, Odisha, Tamil Nadu or Jammu & Kashmir then you can utilize Aircel's LTE service.