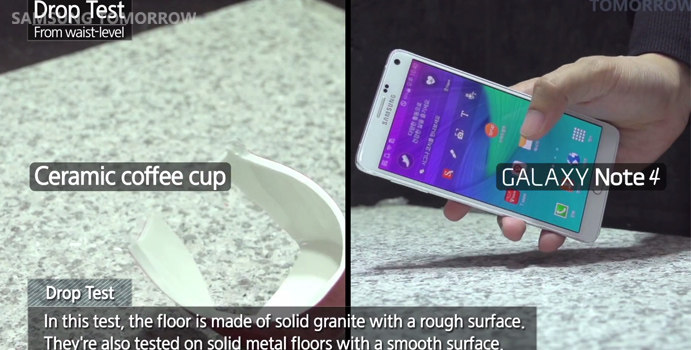 After the Apple iPhone's Bendgade, Samsung posted a video of the Note 4 undergoing bend tests. It said that the Note 4 is durable to the test since it has metal frame, magnesium bracket and manually reinforced structures between the parts. Today Samsung has posted a new video that tests the Galaxy Note 4's durability in drop and tumble test.
Samsung runs rigorous tests both during and after development and production, says the company. This includes, manual drops from various heights and angles, drops on a rough granite surface, smooth metal surface, automatic drop test, and the tumble test where the smartphone is rolled inside a box. The drop test and tumble test are carried out hundreds of times, still the Note 4 is as good as new.
Last year Samsung tested the Galaxy S4 for reliability in several tests such as Dropping Test, Tumble test, Impact test, Sink Test, Temperature & Humidity Test. Check out the official Galaxy Note 4 drops test video below.
httpv://www.youtube.com/watch?v=Jj3Jy5ufhaY