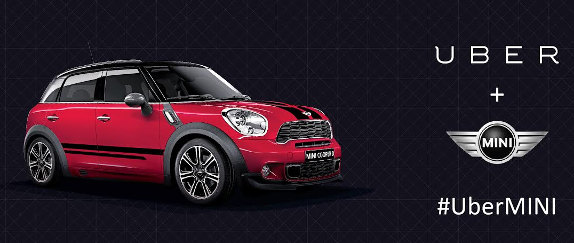 Uber has announced a new on-demand activity in partnership with MINI that would let people in Bangalore, New Delhi and Mumbai enjoy On-demand free rides in signature MINI Cooper on September 20th, tomorrow. MINI comes in three variants in India, the MINI Hatch –the original 3 door MINI, the MINI Convertible. You can also enter the promo code UberMINI14 and get Rs. 500 off your first Uber ride.
For a MINI ride in Mumbai, New Delhi and Bangalore, you can open the Uber app anytime between noon to 8 p.m. on Saturday, 20th September and slide over to the #UberMINI option to enjoy a free ride. Since the demand will be high, availability will be limited, says Uber. You can enjoy your MINI ride up to 15 minutes and three persons per vehicle.
Uber is now present in 10 Indian cities by launching its services in four new Indian cities – Jaipur, Ahmedabad, Chandigarh and Kolkata last month. It recently expanded the UberX, low-cost variant compared to UberBLACK in Chennai, Mumbai and Pune.