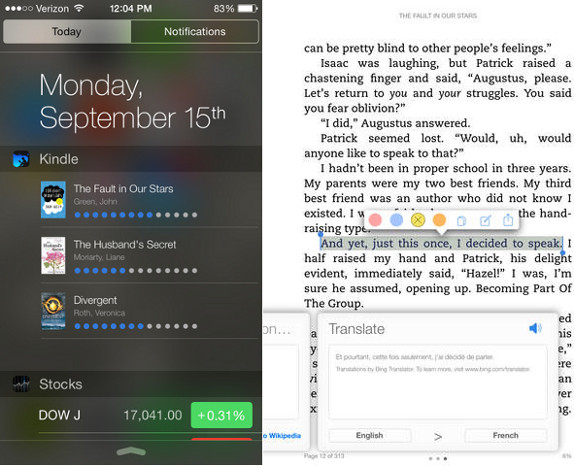 Amazon has updated its Kindle app for iPhone and iPad to version 4.5 that brings several new features including a new Kindle Today Widget for iOS 8 users that makes reading multiple books easier.The update also brings ability to copy passages from books and paste into text messages, e-mail or other apps, new convenient translation feature, iOS 8 support, bug fixes, and stability improvements. Check out the official changelog below.
New features in Kindle 4.5 for iPhone and iPad
Kindle Today Widget (iOS 8 only) – Multi-book readers can now surf between books from anywhere on the device by pulling down the `Today' view and tapping on one of the three titles in the Kindle Widget. They can choose from their most recently opened library titles, like the `jump' function on a TV remote.
Copy & Paste – Ability to copy passages from your books and add them to the iOS clipboard for pasting into a text message, e-mail, social media, or other iOS applications outside of Kindle.
Smart Lookup Translation Card – Authors often include phrases in other languages to add depth or meaning to a story. Readers can now get a full understanding by selecting the word or phrase and viewing the translation card.
If you don't have it, you can download Kindle 4.5 for iOS from the Apple iTunes Store for free.