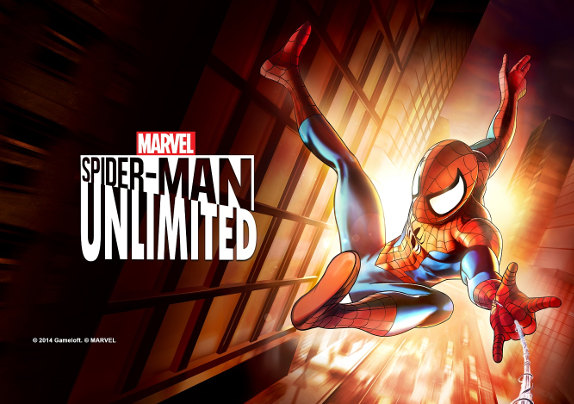 Few months after releasing the Amazing Spider-Man 2 game, Gameloft has released Spider-Man Unlimited, an endless runner for Android, iOS and Windows Phone platforms as it promised. The game is available for free, but it comes with in-app purchases. In this new game, you need to help Spider-Man defeat the new Sinister Six as they use a dimensional rift to create an army of themselves to take over Manhattan.
httpv://www.youtube.com/watch?v=vJJ9LiDves0
Highlights of Spider-Man Unlimited

Enjoy the thrill of the first Spider-Man web-runner! Swing, run and fight through chaotic Manhattan in over 5 different Marvel environments!
Go beyond a runner with unique gameplay! Fight in battles against dimensional super villains, swing, wall-climb and skydive!
Play Story mode with 5 boss battles and 25 missions per Issue! New daily and weekly events with spectacular rewards in Event mode! Or climb up the leaderboards in Unlimited mode!
A continuing episodic adventure: The Sinister Six are moving from dimension to dimension, destroying everything in their path – and our world is next! But it ends now… with an army of Spider-Men!
Dive into an extensive Marvel Universe spanning over 50 years of Spider-Man with iconic characters, including multiple variations of each villain, as well as Nick Fury, Mary Jane, and Black Cat!
 Summon, collect and play as tons of Spider-Men featured throughout the Marvel Universe, including Spider-Man Noir, Iron Spider, Cosmic Spider-Man, Scarlet Spider, and the Bombastic Bag-Man!
Collect, fuse, and level up your Spider-Man cards, each with its own unique in-game benefit, and send them on Spidey Ops missions around Manhattan!
Download Spider-Man Unlimited (Free) – Android | iPhone and iPad | Windows Phone