Google and HTC are set to unveil an official keyboard case for an upcoming Nexus Tablet, as per a report from Android Police. The report cites information provided to the site from unnamed sources and states that HTC and Google will have different official accessories for the tablet known as the "Flounder" or "Volantis".
Along with the photo of the keyboard, an image of the general outline of the keyboard folio has been revealed in the report. Rumors and reports about a possibility of the HTC Nexus tablet have been looming for a long time now. The image shows that the cover will have segmented sections that resembles to Apple's Smart Cover. It will fold up and support the tablet when in use. Moving on, the tablet can be locked and unlocked with the help of the case automatically.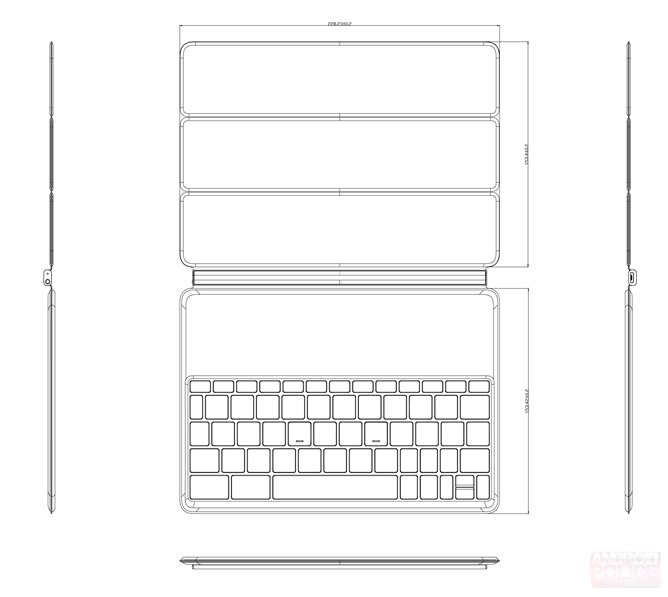 According to the image the case looks similar to Microsoft's Type keyboard for the Surface line of Windows tablets. It will boast of a QWERTY keyboard with few Android navigation keys. The keyboard will apparently have a dimension of 228 x 320 x 5mm with a key space of around 15mm and a height of around 3mm. However, it looks like it will not have a touch or trackpad. Finally, the keyboard is reportedly powered by a 450mAh battery.
The case is expected to initiate the pairing process with the Flounder/Volantis using NFC, with Bluetooth being used for pairing afterward. HTC Volantis is going to be the first tablet from Google with a 4:3 aspect ratio and a 64-bit processor under its hood. In June the tablet was leaked with some specs and render. The tablet then was reported to pass Wi-Fi certification.
via:Android Police