NVIDIA's Shield tablet was first revealed in Global Certification Forum earlier this month. Today, an alleged press image of NVIDIA's Shield tablet has surfaced online thanks to @evleaks. The popular leakster has released a front view image of the tablet.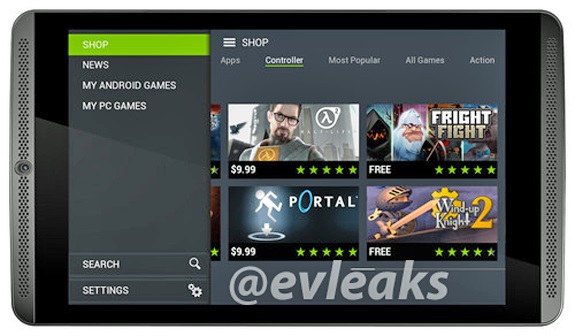 As per the image, it looks like the tablet has a front facing camera situated on top the metallic grill on the tablet. In addition, front facing speakers are also seen on the tablet which has a gray color scheme.The NVIDIA Shield tablet which is expected to debut in the immediate future is rumored to sport a 7.9-inch touchscreen with 2048×1536 resolution. It will be powered by Tegra K1 chipset and have LTE connectivity. Other specifications expected are 2GB of RAM, 7MP rear-facing camera, 4.8MP front-facing camera, 16GB of on-board storage, Bluetooth 4.0, WiFi connectivity, and will run Android 4.4.2.
Unlike the first Shield, the Shield tablet's controller will supposedly be sold separately. This will let you connect the tablet to your TV with an HDMI cable and use it to play PC games on your TV without carrying your desktop computer into the living room. Earlier this week there was a report about NVIDIA working on Android game streaming controller.