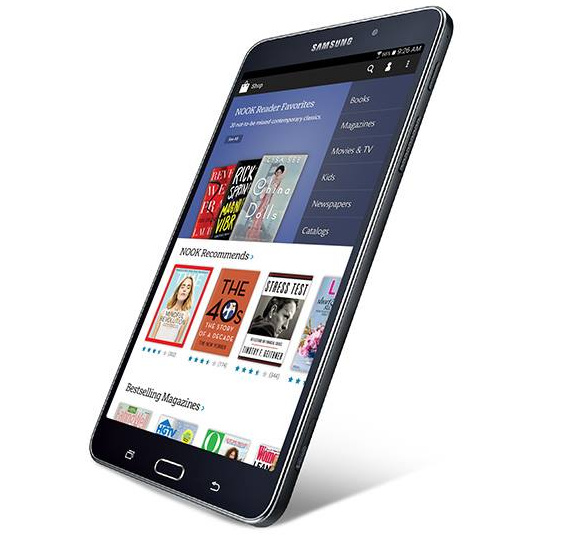 Barnes & Noble is teaming up with Samsung to launch a new line of  tablets. The duo will roll out co-branded line of tablets that are dubbed as Samsung Galaxy Tab 4 Nook. Equipped with Samsung's hardware the tablets will be based on Samsung's entry-level 7-inch Galaxy Tab 4. They will also boast of customized Nook software from Barnes & Noble.
The tablets will go on sale in the U.S. in early August and will be sold at Barnes & Noble bookstores and online alongside NOOK e-readers. Pricing of the tablets have been still kept under the wraps, however we are expecting that it will be around $200 which is the current price tag of the standard Galaxy Tab 4.
"Partnering with Samsung brings our customers great new products and evidences our commitment to our NOOK customers and growing our digital content business."

said Michael P. Huseby, Chief Executive Officer of Barnes & Noble, Inc in an official release.
Considering the specifications, the Samsung Galaxy Tab 4 Nook will compete closely with Amazon's Kindle Fire HDX as well as Google's Nexus 7. Barnes & Noble has been struggling in the highly competitive tablet market for quite some time now. Hence, the move from the company seems like a desperate measure to get back in the market and garner some revenues.