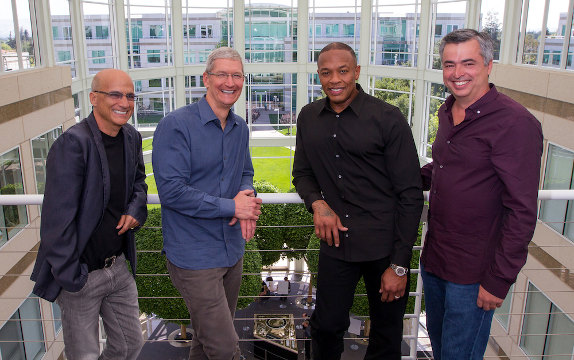 After several reports, Apple today confirmed that it has agreed to buy Beats Music and Beats Electronics for a total of $3 billion. Beats co-founders Jimmy Iovine and Dr. Dre will join Apple along with their team of employees. Apple will pay $2.6 billion in cash and $400 million in stock. This marks the largest acquisition ever made by Apple.
Regarding the deal, in a letter to Apple's employees, CEO Tim Cook, said
Both Apple and Beats believe that a great music service requires a strong editorial and curation team, and we will continue to expand what we do in those areas. The addition of Beats will make our incredible iTunes lineup even better, extending the emotional connection our customers have with music.
Beats brought its stake from HTC last year, but still licenses its audio technology to HP. According to CNET's report, HP said that it is allowed to continue developing products with new Beats Audio technologies through 2014 and will integrate Beats Audio technology in its high-end PCs through 2015.
Beats audio accessories such as headphones and portable speakers are already available through Apple's retail stores. Apple did not reveal any details about the products it plans to develop with Beats in future.
Beats Electronics sells audio products and also offers Beats Music, a subscription-based service. Both the Beats hardware brand as well as the Beats Music streaming service will remain separate, says Apple. The deal is expected to close by the end of its fiscal year, which is September.