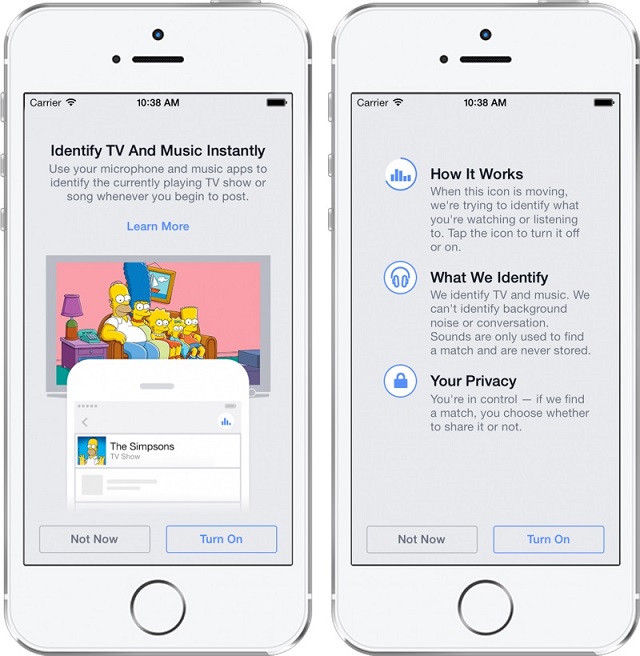 Facebook is making easy for its users to identify a song and share them on the go. The social network is adding audio recognition to its mobile app that will enable users to identify songs they are listening to. In addition to music, the feature will also add TV shows and  movies recognition to the service.
Available to US users for now on Android and iOS app, the feature lets them tag a TV show playing at that moment. The feature uses the built-in microphones in mobile devices to determine what music a user is listening to or what television show or movie they are watching. Users will have to turn on the feature to tag them on its News Feed. The feature can also be turned offIf you want to share that you're listening to your favorite Beyoncé track or watching the season premiere of Game of Thrones, you can do it quickly and easily, without typing.
Aryeh Selekman, a product manager, Facebook on company blog post.
Along with tagging, Friends can then listen to a 30-second preview of songs or see a link to a TV show's Page. Facebook has partnered with music streaming companies Spotify, Rdio and Deezer to develop a database of millions of songs. While for TV, Facebook is starting with 160 live TV stations. In case of TV shows the story in News Feed will highlight the specific season and episode you're watching, so you can avoid any spoilers and join in conversations with your friends after you've caught up.
Currently, users have to manually select "Listening To" or "Watching" in the status-creation screen. Facebook said that over the past  year,  users shared more than 5 billion status updates with these feeling- and activity-oriented emoticons. The audio recognition feature is similar to popular service Shazam and Soundhound. Facebook did not say when will the feature roll out globally.