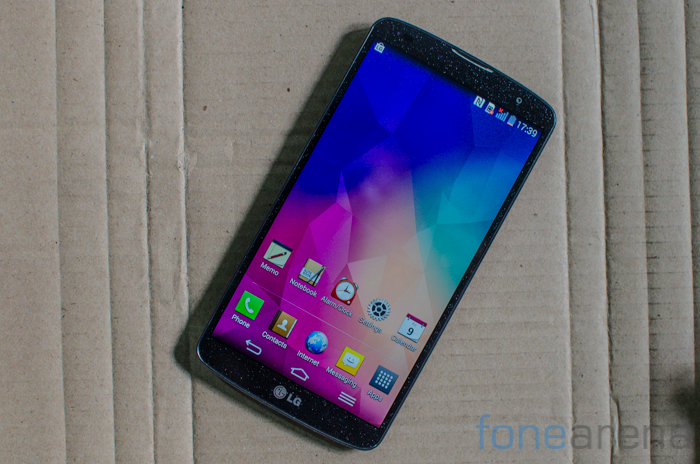 The original G Pro was LG's push into the phablet category with high end specifications and more specifically a gigantic (for the time) display. Fast forward to 2014 and 5.5 inches is fast becoming the norm for smartphones. Owing to consumer trends, the successor has grown bigger still. We have with us the LG G Pro 2 which is the latest large screen wonder from the Korean smartphone manufacturer that aims to tackle the needs of consumers wanting a bigger smartphone viewing experience. Follow on for our review of the LG G Pro 2 as we take a look at what makes this device tick.
LG G Pro 2 specifications
5.9-inch (1920 x 1080 pixels) Full HD IPS display with slim bezel
2.26 GHz quad-core Snapdragon 800 processor with Adreno 330 GPU
Android 4.4 (KitKat)
Dimensions – 157.9 x 81.9 x 8.3mm, weight: 172g
13MP rear camera with LED Flash, OIS+, 4K video recording, Slow motion video at 120 fps
2.1 MP front-facing camera
3GB DDR3 RAM, 16GB / 32GB of internal memory, micro SD card slot
LTE / 3G HSPA+, WiFi 802.11 ac/a/b/g/n, Bluetooth 4.0 with A2DP, GPS / aGPS, NFC, SlimPort
3200 mAh battery (removable)
Video Review
httpv://www.youtube.com/watch?v=9cjJzQwW9ek
Hardware
At first glance it is quite apparent that LG has taken a lot of inspiration from the G2 for the design of the G Pro 2. As you'd expect, most of the front is essentially just the screen. This is further accentuated by the slim bezels.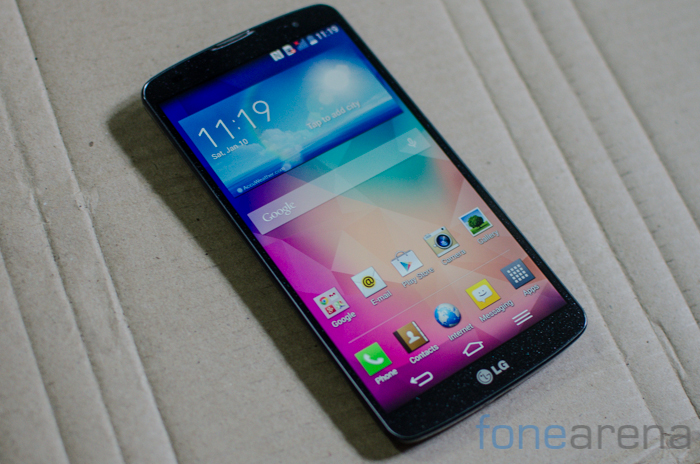 Below the screen, you'll notice the distinct lack of capacitive buttons or the hardware menu key from the original G Pro. The move to onscreen controls results in a very clean design with only minimal LG branding visible below the panel. We have mixed opinions about the light reflecting material built into the front pane that displays small dot like patterns when held in sunlight. This seems to go against the clean design philosophy that LG seems to be aiming for.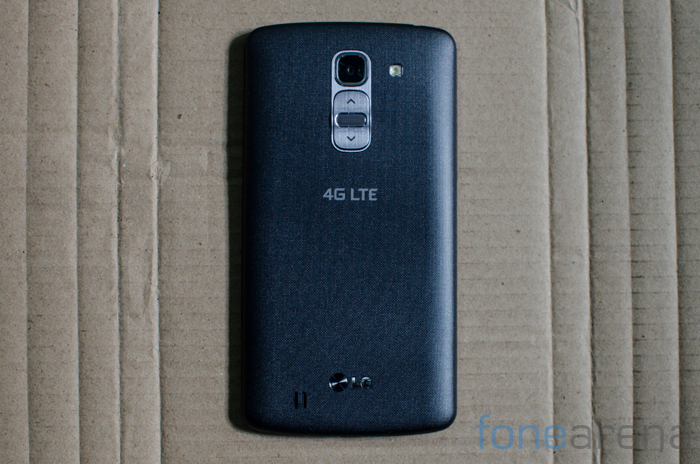 Perhaps one of the most innovative hardware features of the LG G2 has also made its way here. The implementation of all the physical controls at the back of the phone results in space saving and is genuinely convenient once you get used to it. There's absolutely no doubt that there's a learning curve involved in using the rear mounted power key, volume rocker. As a bonus, an LED is embedded into the central power button that glows when connected to a charger. The volume rocker keys double up as shortcuts, long pressing the volume up and down keys launches the Quick Memo app or Camera app respectively.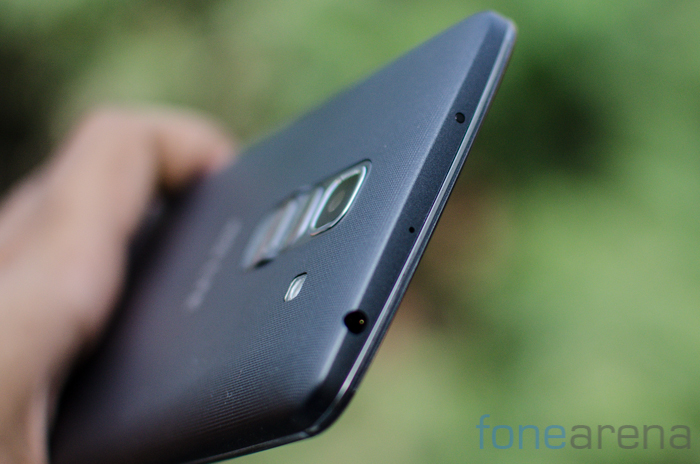 Rest of the hardware is fairly spartan with a micro USB port located at the bottom of the phone. Up top you'll find the 3.5mm audio jack, the IR blaster as well as the secondary microphone.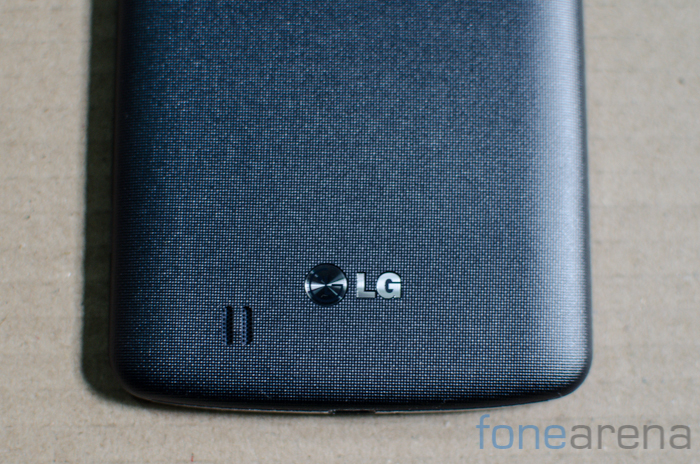 There's much to be said about the quality of materials used here. The front of the phone is made of a glossy, slippery plastic that doesn't do much justice to the handset. Over at the back, the tacky plastics used on the G Pro are gone and instead you find a mesh like finish. The back cover is removable and should be able to survive a reasonable amount of flex. The material while not entirely non slippery, is a much needed improvement over the G Pro. The LG G Pro 2 weighs in at a hefty 172 grams with dimensions ranging between 157.9 x 81.9 x 8.3mm. Its a big phone for sure, one that we felt a bit awkward holding up for long. The weight on the other hand feels deceptively low for a device of this size to the extent that we would've liked there to be a bit more heft to make the G Pro 2 feel a bit more reassuring to hold.
Software
The software on board the G Pro 2 is Android 4.4.2 KitKat with a heavily customized interface on top. The interface is more or less the same as that on previous generation devices with some subtle KitKat specific tweaks on board which is a shame given that the company's newest phone ie the G3 comes with a much improved, cleaner interface.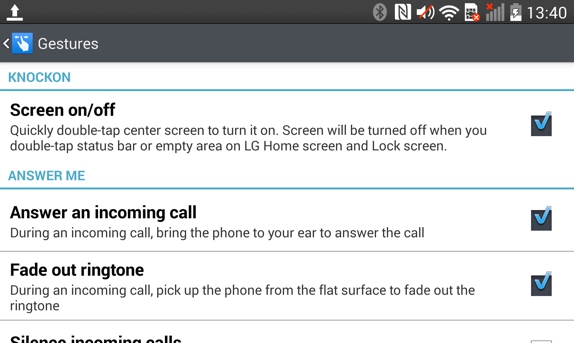 The G Pro 2 comes with Knock Code which is an enhanced version of KnockOn as seen on the LG G2. It lets you knock a pattern on the screen to bypass the lockscreen. In our usage we had about an 80% success rate in getting this to work but eventually ended up disabling it. Your mileage may vary.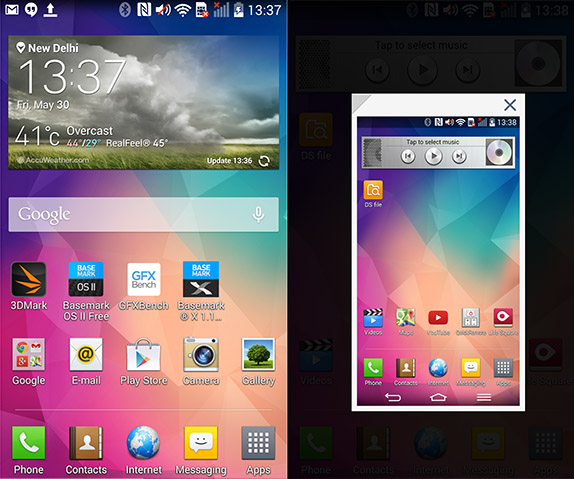 Check out the Knock Code demo
httpv://www.youtube.com/watch?v=42fGceiFAVI
An interesting new feature is Mini View. Given the size of the screen, one handed usage is nigh impossible. This feature lets you scale down the screen size to something more manageable. Truth be told, we think that this is quite a ridiculous approach to go around the enormous screen sizes we've reached.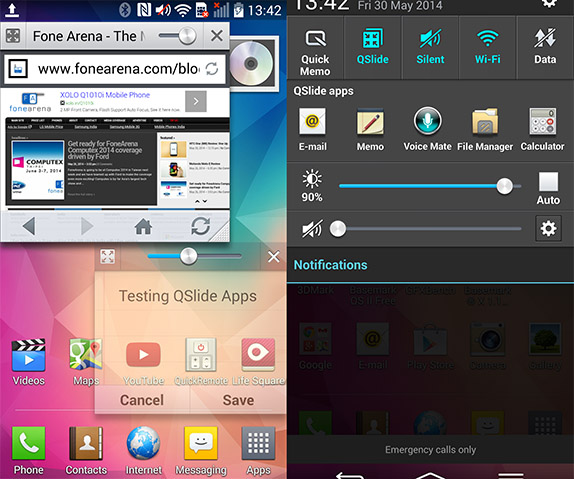 Other additions to the software remain the same as you'd have seen on other high end LG smartphones. Sliding down the notification panel reveals a very busy interface. You can spot LG's Q Slide apps here which are essentially omnipresent floating widgets that can be interacted with. Sliders for brightness, volume levels are also placed here. Overall the LG G Pro 2's software brings a lot to the table, the interface however is not its strong point. It remains to be seen if LG ports over the G3's interface to the G Pro 2.
Here is a video that demos all other software features such as Mini View, Split View and more
httpv://www.youtube.com/watch?v=MDV8JMrXw9o
Performance
Running the show behind the scenes is a 2.26Ghz Snapdragon 800 processor and is paired with Adreno 330 graphics. You also get 3GB of RAM onboard. These are specifications which were classified as top of the line for last generation phones. Even today, the difference between the chipset on offer and current gen chipsets is marginal so it would be foolhardy to dismiss the handset based on paper specifications.
While the true test of a handset is in most definitely in real life usage scenarios, synthetic benchmarks work well to get a comparative score to pit the handset against others in the same category. The LG G Pro 2 is based on Android KitKat 4.4 which further improved performance by cutting down resource usage and improved memory optimization. Real world performance is good though on occasion we noticed frame drops. We're at a point where devices are generally speedy enough for most users and keeping that in mind, the G Pro 2 really doesn't leave anything to complain about. Despite the phone lacking the latest Snapdragon 801 processor, it should be able to hold its own against the competition. You can follow through to our LG G Pro 2 benchmarks page to get comparative scores against the competition. We've included the more popular benchmarks below.
Quadrant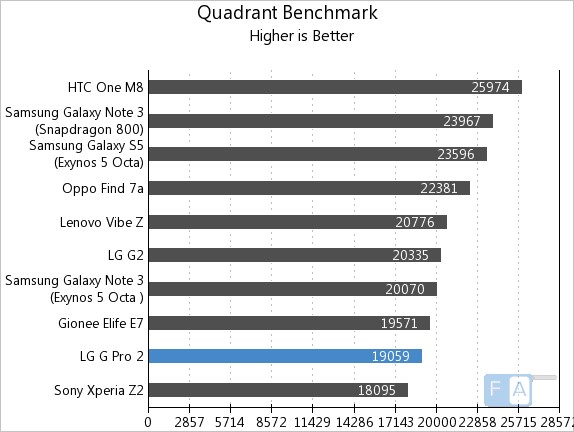 The LG G Pro 2 scored 19059 points in the Quadrant benchmark that measures CPU performance. The phone scores above the Xperia Z2 but lags behind most of the competition. This can perhaps be owed to using a lower clocked processor chip.
AnTuTu Benchmark 4
In the AnTuTu benchmark, the phone scored 32717 points. The AnTuTu judges complete system performance and the phone ranked well below the leaders.
Basemark OS II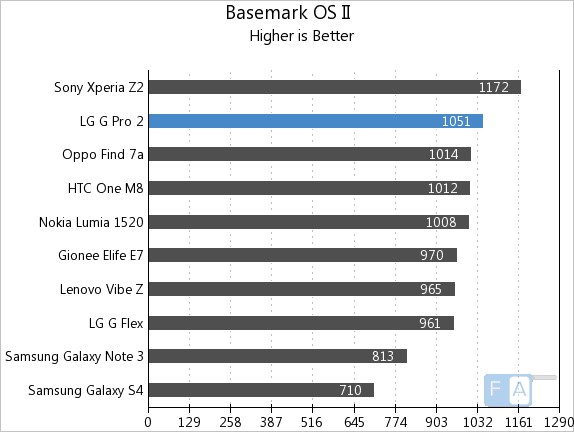 In the GPU centric Basemark OS II benchmark, the LG G Pro 2 scored 1051 points and ranked just below the leader ie the Xperia Z2.
httpv://www.youtube.com/watch?v=jJt-LZgqQ6c
Display
The original LG G Pro really impressed up with its stunning IPS display and so we had high hopes from the successor as well. The LG G Pro 2 doesn't disappoint. The 1080p panel stretched across 5.9 inches and with a pixel density of 373ppi isn't quite as sharp as you'd want but this is on paper only. In actual usage it is close to impossible to notice the difference.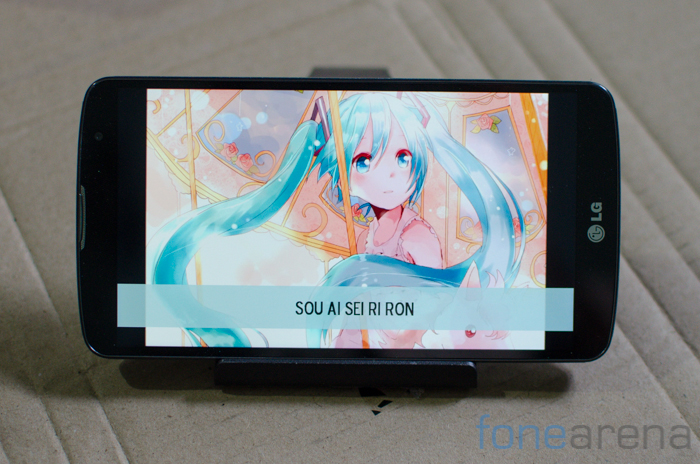 The LG G Pro 2 displays excellent viewing angles with text remaining legible even at the most extreme corners. We also found contrast levels to be very good though brightness levels weren't as amazing as you'd want. Not a problem indoors but we found viewing multimedia content in bright sunlight less than optimal. Text remains legible in virtually any lighting condition.
Camera
The camera on the LG G Pro 2 is polarizing to say the least. On paper it brings a 13MP sensor that is befitting a flagship. This is paired with a two axis optical image stabilization system called OIS+. and the camera is also capable of capturing 4K video at 30FPS. The sensor remains the same as the one on the G2 and this isn't really an issue at all. On the front you get access to a 2.1MP camera sensor. The front camera too can record up to 1080p video. An interesting addition brought forth by LG is the ChromaFlash as shown first by Qualcomm. This has been rebranded as natural flash by the Korean company. In our experience it helped light up subjects a bit more naturally so to speak.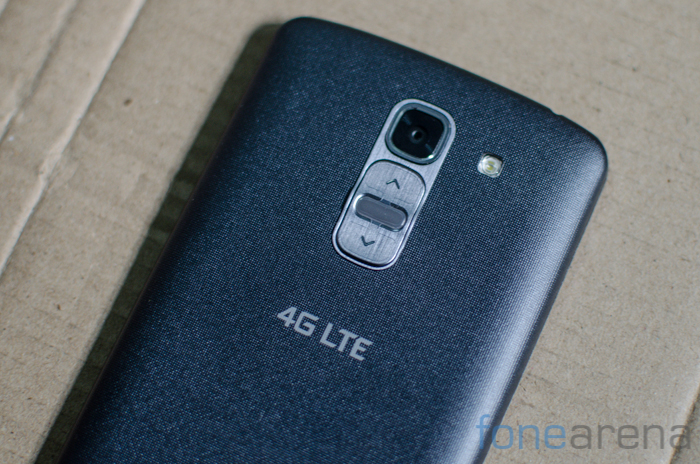 LG has built in a range of camera modes that cover practically any usage scenario you might be in. This includes scene modes like Normal, Shot, Clear, HDR, VP Panorama, Beauty Shot, Dual Camera Shot, Magic Focus, Sports, Time Catch and Intelligent Auto. A variant of Nokia's Refocus application also makes its way here wherein the phone captures images at multiple focus points and then lets you select level of blur before saving the final shot.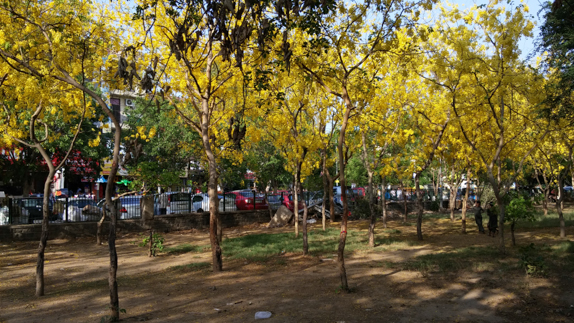 We found image quality to be generally very good. Noise is kept under control in proper lighting conditions. Photos retain a sufficient amount of detail though exposure algorithms could do with some more tweaking. Photos tend to be slightly underexposed. In addition, the edge correction and compression algorithms seem to be working extra hard resulting in visible artifacts at 100% magnification.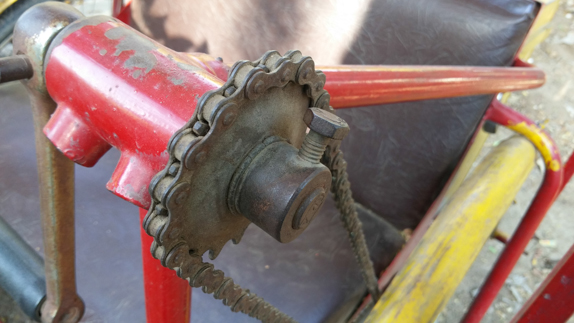 Close up shots turned out to be particularly impressive with the camera focusing very quickly. We noticed that close up shots tend to be slightly grainy. The OIS+ system works well to capture challenging shots without blur.
Lens flares are a problem that LG definitely needs to tackle on the G Pro 2. Shooting into the sunlight invariably led to flares and streaking across the shot even when not facing the sun directly. Over all though, the camera is definitely above average and we'd even call it quite good. Over enthusiastic processing somewhat dampens the results that might have been expected but most users will be more than satisfied with the camera on the LG G Pro 2. Check out the camera review.
httpv://www.youtube.com/watch?v=UXa_oxSUF9s
Connectivity & Battery Life
Owing to its flagship level status, the LG G Pro 2 is equipped with practically any connectivity feature you might want. This ranges from LTE / 3G HSPA+, WiFi 802.11 ac/a/b/g/n, Bluetooth 4.0 with A2DP, GPS / aGPS, NFC and SlimPort support. Despite having just 16GB of storage built in of which just about 10GB is available. Yes, the heavy skin used by LG does take a toll on built in storage and you'll be making extensive use of the microSD card slot for storing all your media files. We definitely liked the addition of the infrared port which means you can use the G Pro 2 to control other household appliances like your air conditioner or even your television.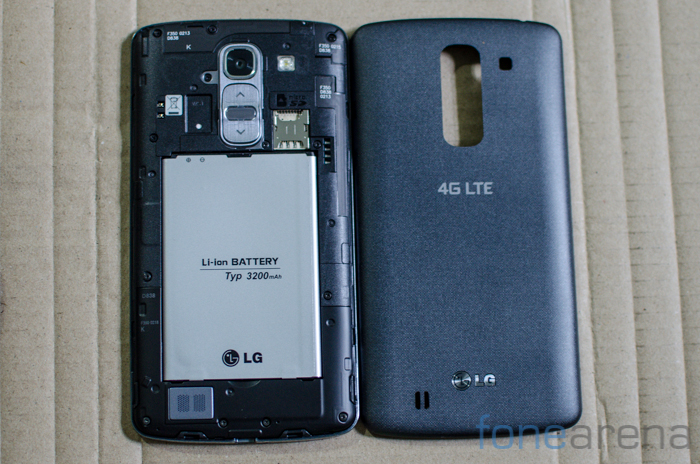 The battery on the phone is rated for 3200 mAh. Traditionally, LG has been very good at optimizing devices for increased longevity and we expected to see the same on the G Pro 2. We definitely were not disappointed. The 3200 mAh cell in the G Pro 2 was more than sufficient to last a full day of active usage with a healthy mix of taking photos, watching videos, streaming music over Spotify and of course phone calls. We did some run down tests which give a ballpark figure for possible usage scenarios. The G Pro 2 lasted just under 10 hours of continuous video playback.
Conclusion
The LG G Pro 2 is a decent smartphone, we could even call it a good flagship level device but there's nothing that makes it a great high end device deserving of its price. There's no USP here. What you do get is a smartphone that ticks all the checkboxes and plays it safe. This is all the more obvious when you see competitors taking big risks like HTC with its depth sensor on the HTC One M8, Samsung with the Heart Rate monitor on the Galaxy S5 and the Xperia Z2 that offers IP58 protection.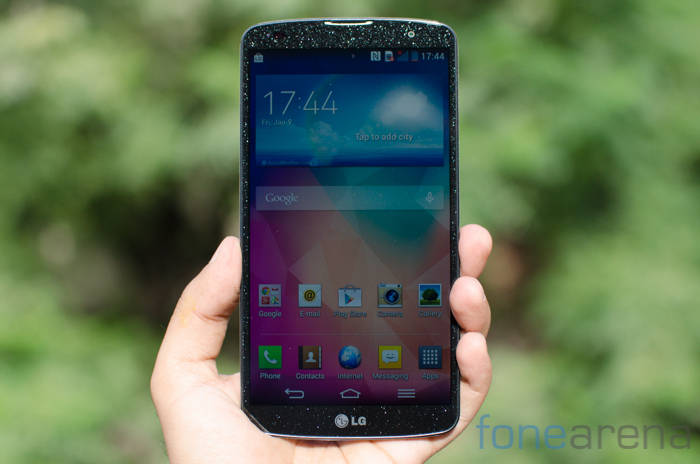 Add to that the fact that the phone is positively enormous at 5.9 inches, we'd definitely ask you to think twice before investing in this behemoth. Coming to specific niggles, we definitely felt the absence of a stylus here. The camera while decent, wasn't good enough in low light conditions. Perhaps our biggest gripe is with the interface that looks resoundingly last century compared to what the competition offers. As a pure hardware play though, the LG G Pro 2 is a solid offering. The phone is priced at Rs. 51,990.
Pros
High end hardware
Rear mounted controls
Display quality
Cons
Poor Interface
Low light camera performance
Size