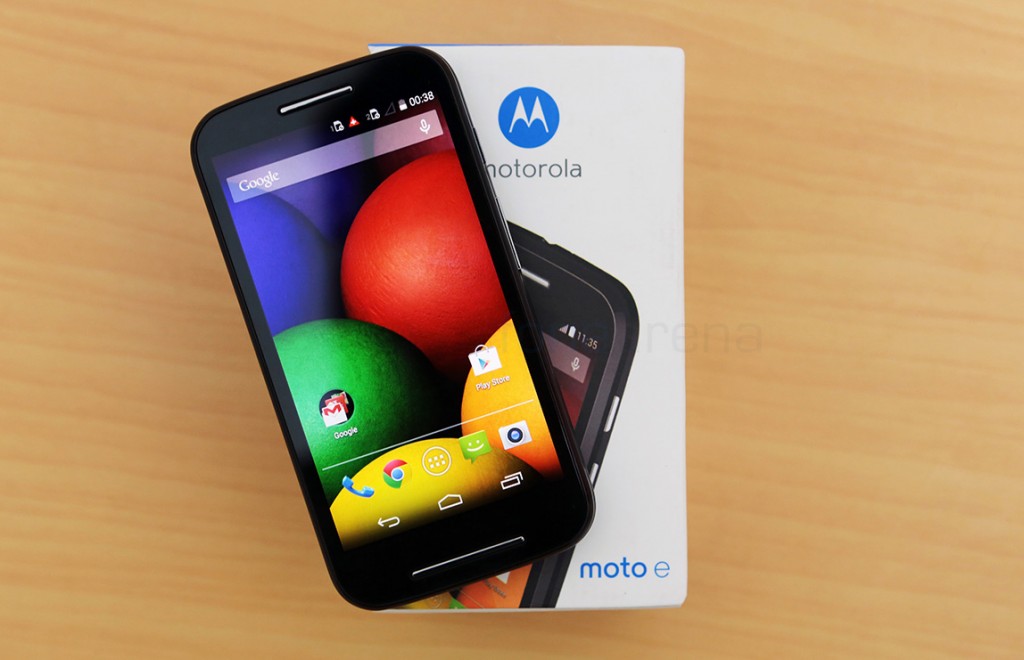 Motorola Moto E, the latest budget smartphone from the makers of the uber popular Moto G, was launched in India, a day before yesterday, at an event in New Delhi. Priced at a lowly Rs. 6,999, India was one of the International launch markets where Motorola has pursued the same strategy as before, for its Moto X and Moto G devices. The device will sell in an online-only model through one of the most popular e-commerce retailers in the country, Flipkart. Due to this efficient distribution model, we have already got the device in our labs, for the usual testing that we do, and of course, the first thing we did was unbox it and see what it packs. We also think it will benefit the online buyers as this is the closest one can get to checking it out in person. So here you go, the unboxing of the Motorola Moto E with an overview of the hardware and the software, including tidbits on the storage and RAM numbers –
httpv://www.youtube.com/watch?v=EaMZVUY4yjk
The box contents of the Moto E are pretty minimal, which is expected, considering the Moto G was very similar. Here are all the box contents laid out in a single image, for easier reference –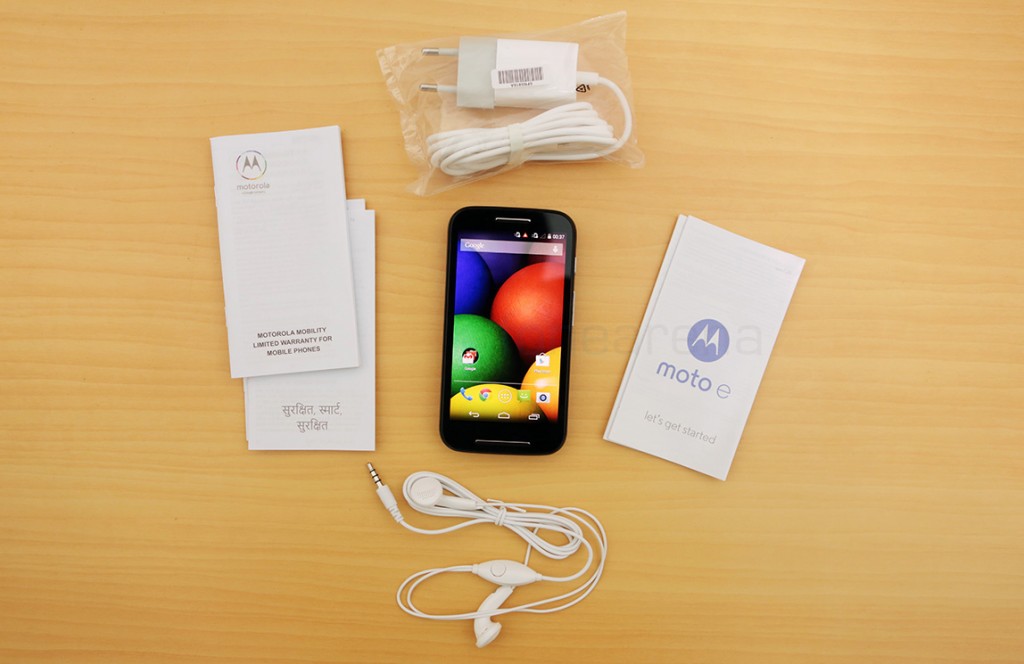 Box Contents
Motorola Moto E Dual SIM phone in black
White ear phones with mic
Instruction manuals in English and Hindi
Travel/Wall charger with non-removable micro USB cable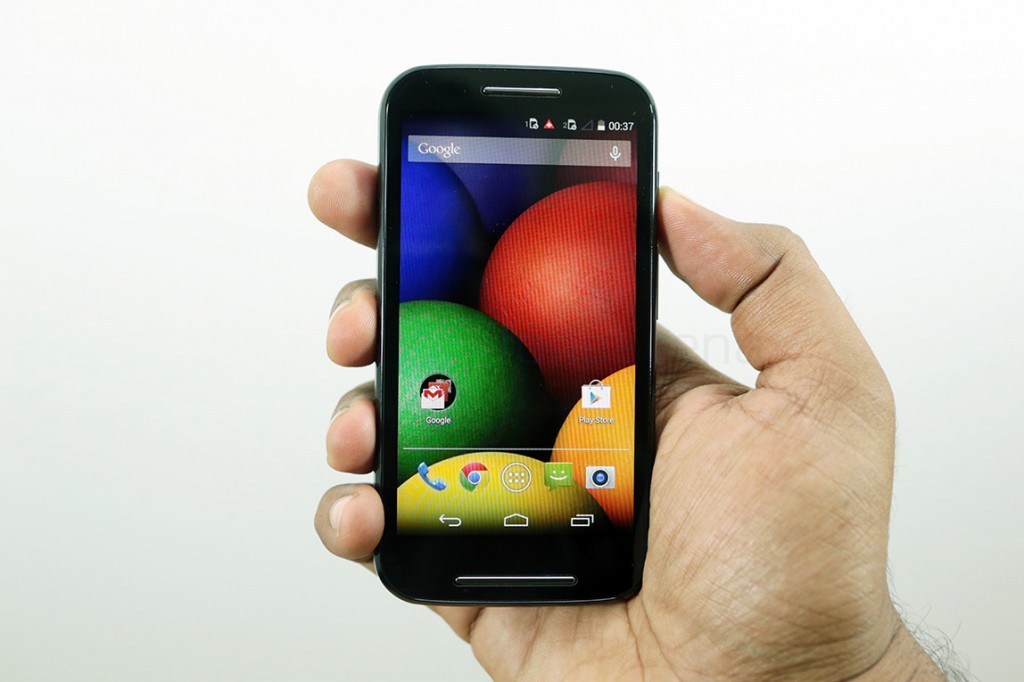 The first thing that will hit you once you take the Moto E in your hand is how strikingly similar it is to the Moto G. The design, the materials, and even the key placements are extremely similar. That's not to say there are no differences though, because there are, and they are mostly with respect to the price difference. The phone looks and feels great in the hands largely thanks to the choice of materials Moto has opted for.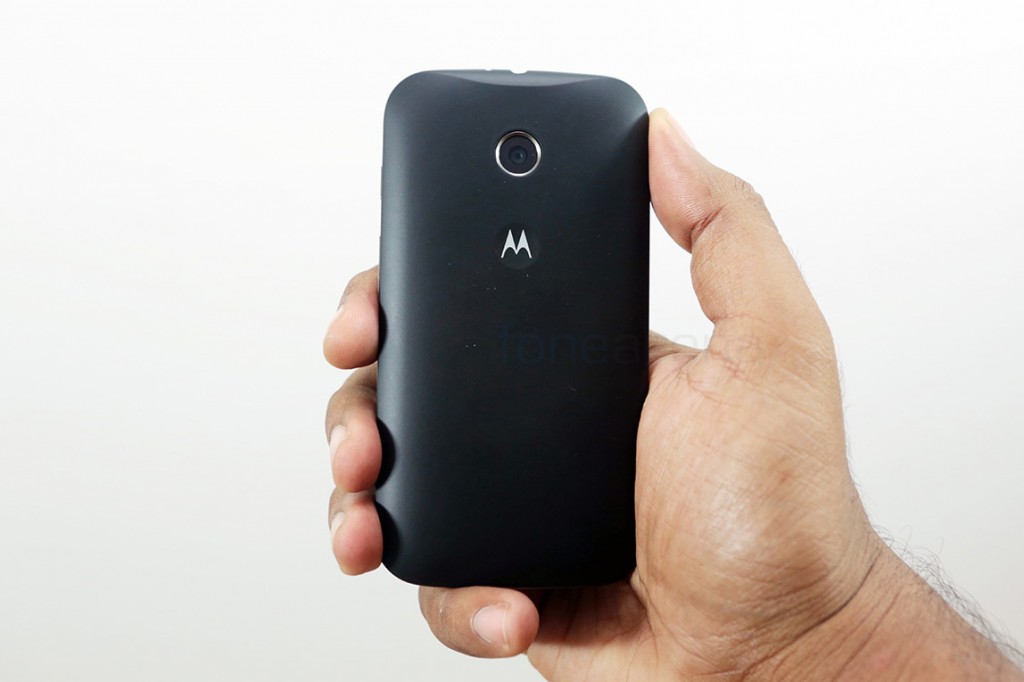 Another big change is in terms of the internals. The Moto G could not take micro SD cards, which was a huge deal breaker for some, but the Moto E can, due to the obvious reduction in storage. The 4GB internal memory comes with 2.05 GB of free space, but there are options to move big apps to the SD card in full. This will be a relief for heavy users of apps and games. We could tell you more about this device now, but we will reserve an in-depth judgement for our review, which will happen real soon. Until then, here are the individual pics of the box contents –
Have any questions? Let us know in the comments section below, and stay tuned for more on the Moto E.