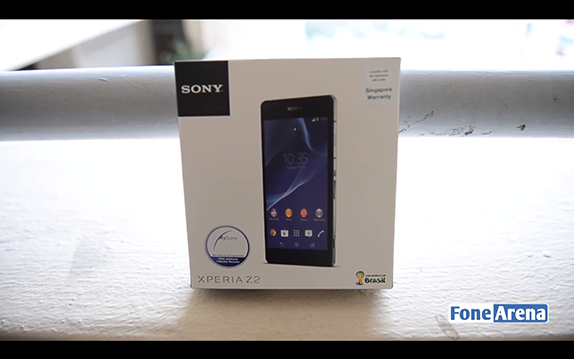 Sony had announced the XPERIA Z2 back in February at MWC 2014 in Barcelona, Spain along with Samsung's Galaxy S5. However due to certain production issues, the phone's availability has been very scarce. It's available in Singapore currently and it's availability has been announced around Europe as well. Other countries worldwide are yet to receive the device so we thought we'll bring you this unboxing.
The device is running on Android 4.4.2 out of the box. The contents of the box are very simple and nothing out of the normal. What you get in the box is:
Sony XPERIA Z2
microUSB Cable
Wall Adapter
Earphones
Booklet and Warranty Information

The packaging and box contents may vary from region to region. Certain places have reported a special package of the device that comes with a dock and noise cancelling earphones as well. Perhaps this would be a premium bundle and might cost you extra. In the UK for example, customers who had pre-ordered the device are getting freebies and other goodies since the launch was delayed by a bit. But our package didn't have either of them. Sony did however provide a 3 month extension to your warranty which you have to register online within 14 days of making the purchase.
The earphones included in our package seems quite basic and we were surprised to see it. We will be comparing the audio quality of the earphones along with other features of the handset soon. Stay tuned for more coverage on the XPERIA Z2.