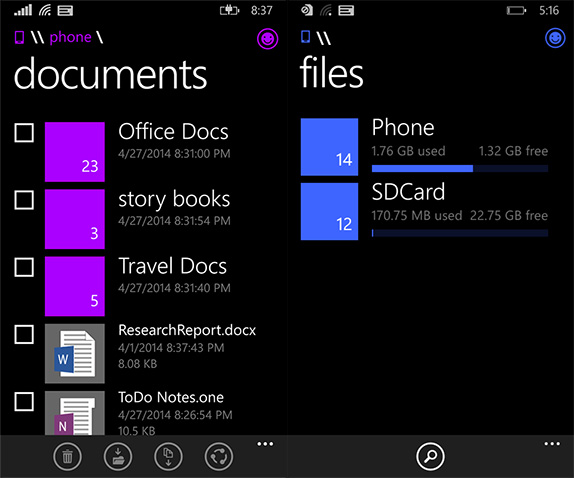 File management is one of the most underrated features of a mobile operating system. For any platform to be truly independent, a file manager that allows local storage and management of any kind of file, is a necessity and with Windows Phone 8.1, this is finally happening. After moving to WinRT APIs for its latest mobile release, Microsoft has finally added the ability to download or upload files on the phone's browser or through various apps, using the file picker. The file picker naturally necessitates a file manager, which will be released as a standalone app by Microsoft, as revealed and teased on a Reddit AMA, by the company's Windows Phone champion, Joe Belfiore. The app is almost ready and is reportedly set to release this month.
While this feature reveal is by no means a groundbreaking addition to the OS (we already have a lot of decent file managers on the Windows store taking advantage of the said APIs), but what is important, is the acknowledgement, from Microsoft of a feature that users have long wanted on its mobile platform. Even Google's pure version of Android comes without a file manager app, so this is something encouraging to see, especially when it's a default app from Redmond. The app, as you would expect, will allow you to manage all the files on your phone, just like how you would manage on a PC using the MTP connection. You have the same folder structure, including the downloads folder that populates everything that you download from Internet Explorer 11, and then there are the other folders that collect media and so forth.
The implementation seems pretty straight forward and it's good to see file types getting their own visual treatment. The app will also let you manage your SD card, should you wish to install one on your phone. Since Microsoft has released only a teaser through a number of screenshots, we hope there is some sort of OneDrive integration so that it doesn't lose out on the whole "mobile first, cloud first" idea that the company is going for, as its newest vision. We will keep you posted on when the release of the app is going live, but until then, here are all the screenshots that Microsoft shared, of the File Manager app on Windows Phone 8.1. Take a look and let us know if you find anything different, in the comments section below.