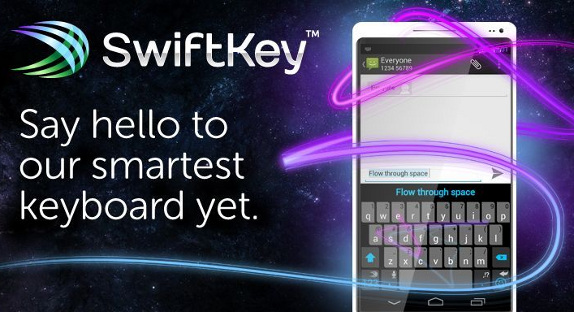 SwiftKey has released SwifKey 4 as an update for Android that combines the SwiftKey Flow with gliding input. SwiftKey Flow Beta was first introduced back in December, and it got a major update last month. SwiftKey has announced that the app has been test by over 200,000 SwiftKey fans, with more than 2.4 billion characters flowed. In addition to SwiftKey Flow with mixed tap input, the new version also brings better personalization, easier corrections, support for 60 languages and more.
New Features in SwiftKey 4 for Android
SwiftKey Flow: Write by gliding your finger on the keyboard.
Multimodal – SwiftKey Flow can be mixed with tap input, with switching mid-word.
Mid-word completion: when you see the word you want just lift your finger off and the word will be inserted.
Flow Through Space: Gesture multiple words without lifting a finger, just by sliding your finger down to the space bar between words
Flow with next-word prediction: when you finish flowing a word, SwiftKey immediately shows you its best guesses for your next word
Easier corrections: Tap anywhere on any word to choose an alternative from SwiftKey's three best guesses, based on the context and on your input
Better personalization: More thorough learning of your language and typing style – size of personal language profile increased in SwiftKey's real-time prediction engine.
Better predictions: Enhanced language engine, predictions in more text fields
60 languages: Now including Albanian, Bosnian, Javanese, Sundanese, Thai, Vietnamese
Download SwiftKey 4 for Android Phones and Tablets for $1.99 for a week after that it'll be $3.99. If you already have SwiftKey 3 this is available as an update.