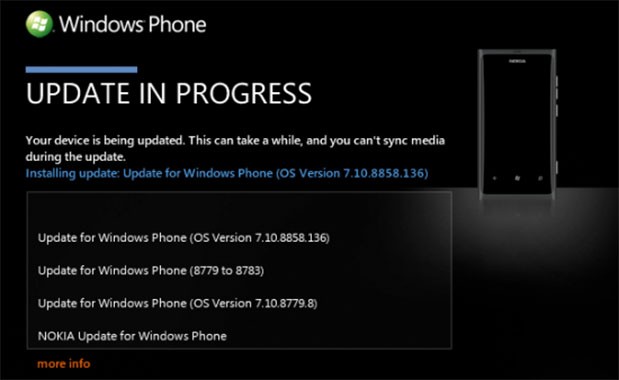 Windows Phone 7.8 has been relatively an unknown quantity even after the release of Windows Phone 8 because Microsoft has been absolutely mum on any plans of the roll out, but fear not, the schedule for the roll out to Nokia's Lumia Windows Phones are apparently on target and has started to pop up on the Zune client in the form of a new update!
The first signs of a Windows Phone 7.8 update for the Nokia Lumia range of Windows Phones were seen when the official firmware files started popping up on the Navifirm servers. Naturally, we downloaded it and gave it a try to find out what's new in Windows Phone 7.8, this is what happened –
Unfortunately what we flashed was just the core Windows Phone 7.8 update without the Nokia bits, which includes an app for Bluetooth file transfer, a ringtone maker and various other Nokia exclusive stuff. But as we can see above, the Zune update does include  the new Nokia firmware update. According to WP7.nl, the update for the Lumia 800 has started rolling out in their country, so it is inevitable that it will roll out to the other side of the world and to all the other devices like the Lumia 710, 610 and 510 soon. We will try on our Lumia 800 and report if we see an update, till then, keep checking and let us know if you find anything new in the comments section below!