Home » apps, India, iPad, Software
Get the latest news in Tamil with the Dinamalar app for iPad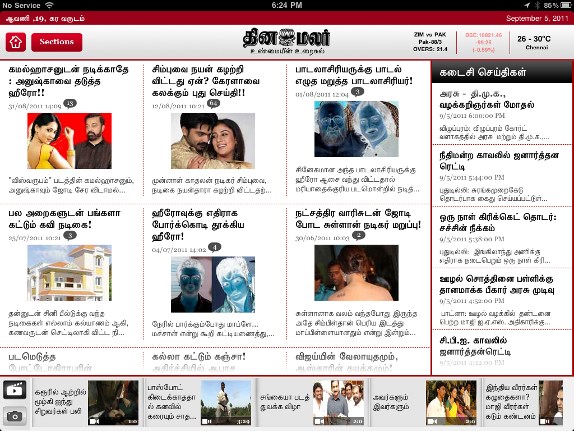 Dinamlar has launched their iPad app that gets you the latest news around the world, India and Tamil Nadu. This also offers features such bookmarking particular news for reading it later and option to download the news to get access to the content offline. Dinamalar newspaper has completed 60 years this month, and they have launched this app to commemorate this.
Features of Dinamalar for iPad
Gets you the latest news from Tamil Nadu, India, World and the important districts news
Cinema and sports news including the live cricket scores, movie reviews and Videos
Dinamalar's trademark Specials such as Tea Kadai Bench, Double Danapal and Weekly features
Astrology and Daily Horoscope and the news stories in pictures
Unique content such as Viki vs Vedhalam, a rhetorical take on interesting political issues, Tweet, Karam, Coffee, a twitter based section and Net Gallatta, an informative yet witty compilation of images from the Internet
Complete weather report and updates fromthe Bombay and National Stock Exchange.
The news report is updated every 24 hours with the breaking news updates on the top scroll bar. You could download the app for iPad from the Apple iTunes store for free. The app is also available for iPhone for free.