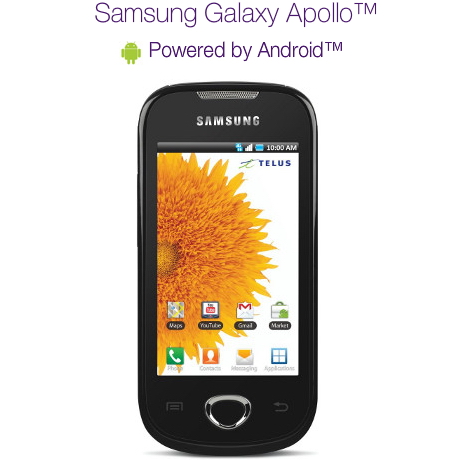 Canadian mobile carrier Telus is currently considering on mid-end Android devices. As we know that Telus recently launched the LG Shine Plus, which is a mid-end Android device. And now Telus is launching another device, the Samsung Galaxy Apollo. Samsung Galaxy Apollo is actually an affordable version of Galaxy S, and we all know that Galaxy S is one expensive device. If you are interested in Galaxy Apollo, then you can get it from Telus for CAD$49.99 with a 3-yr contract, or for CAD$149.99 for 2-yr and for CAD$199.99 for only 1-yr. If you are not interested in contracts, then get it for CAD$249 without contract. Galaxy Apollo comes with following features:
Android 2.1

3.2 inch HVGA touchscreen display

Swype virtual keyboard


3.5mm headset jack

Stereo Bluetooth

3MP autofocus camera

2GB memory card in the box

HSDPA, Wi-Fi, and GPS
So who's getting a Galaxy Apollo from Telus?
via UV