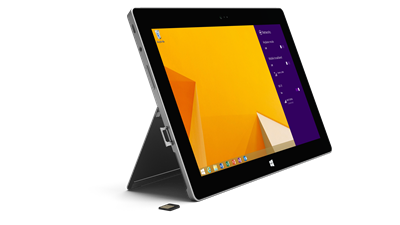 After confirming the presence of a mobile-enabled version in the works when launching the Surface 2, the Redmond giant has finally taken the wraps off Microsoft Surface 2 with LTE 4G on the AT&T network, retailing at a price of 679$ for the 64 GB version. The Surface was Microsoft's first play as a PC hardware company. The first product, called Surface RT, was largely a flop due to poor usability and performance, and even took a write down in the company's earnings. Surface 2, the successor, was launched almost an year later, with good reviews and better reception from consumers, but still not as popular as Microsoft would like. Touted as a portable productive machine, the Surface 2 in its initial variants lacked a LTE chip for mobile data, which was apparently a highly requested feature, and hence we are seeing it now, in the form of the slightly modified LTE variant of the Surface 2.
With a SIM card slot added to the sides, the Surface 2 will be able to use the 4G LTE data connectivity offered by the mobile operator, like AT&T for instance, and lets you use internet on-the-go. Windows RT, the operating system that runs on this device, was initially touted to support mobile networks and data, with special controls for data limiting and control, but we are only now getting to see the hardware that supports it.
The Surface 2 has a 10.1 inch 1920×1080 screen, a fast Tegra 4 processor and overall has improved a lot from its predecessor, along with the necessary software updates. It also now has better front and rear facing cameras, a sleeker frame and lesser weight, with a two stage kickstand making the "lappability" easier. With mobile connectivity added to this list, the Surface 2 gains yet another highly requested functionality and might just setting us up for a smaller Surface with LTE, that might launch soon.
Source Surface Blogs