Last week, Rovio teased that they were introducing an Angry Birds themed RPG game and that it would be called Angry Birds Epic. Today, the game has gone live in App stores of countries like New Zealand, Australia and Canada. This is just a soft release and when the game is ready, it will be available for everybody across Apple App Store, Google Play Store and Microsoft Windows Store.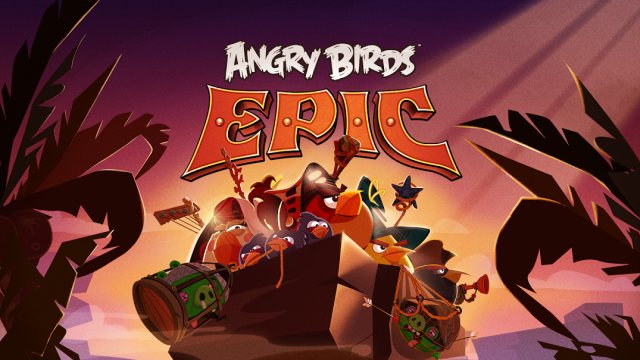 The game description is as follows
Get ready for a bird-tastic FREE RPG adventure filled with "weapons" (whatever they could get ahold of), magic, bad guys and silly hats! Lead your feathery team into battle now – it's going to be EPIC!

EPIC BATTLES! Turn-based battles between our heroic flock of warriors and those green snout-nosed scoundrels! It's easy to play, but difficult to master!

EPIC WORLDS! Explore a fantasy Piggy Island with everything from tribal villages and frosty mountains to tropical beaches and mysterious caves!

EPIC CHARACTERS! Join Red, Chuck, Bomb and the other heroes as they face King Pig, Wiz Pig, Prince Porky and many more villains!

EPIC UPGRADES! Level up your characters, armor, weapons and potions to become a legendary hero ready to take on the mightiest pig warrior!

EPIC WEAPONS! Craft amazing battle-winning weapons like a wooden sword, frying pan or stick thingy with a sponge on top!

EPIC HUMOR! Plenty of offbeat humor and tons of quirky characters dressed in awesomely silly costumes – like a prickly cactus hat and a matching sword.
The gameplay is set in a fantasy version of the Piggy island where users enjoy themselves in an adventure role-playing game. According to Rovio, the storyline is great and users get to play a campaign with a challenging end. Angry Birds Epic is a turn based combat game that also has elaborate methods of crafting weapons, armour and potions with resources that the users can buy through real currency or through resources they gather in the game.
Rovio has also released a small gameplay trailer which you can check out right below.
httpv://www.youtube.com/watch?v=NCs_1NCLo90