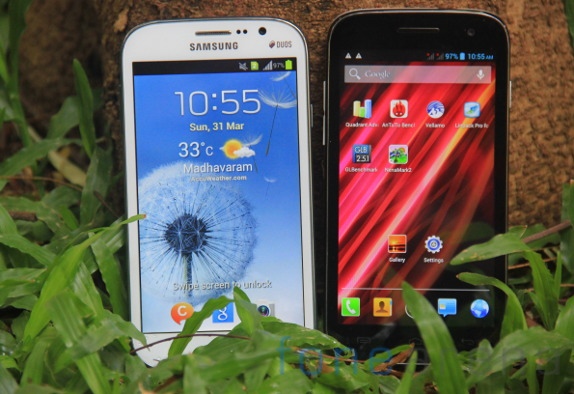 India's smartphone market grew 181% year-over-year in 2013, with shipments of 44 million smartphones, compared to 16.2 million units in 2012, according to a recent report from International Data Corporation (IDC). Over 257 million mobile phones were shipped in 2013. The feature phone market grew just 16% YoY in Q4 13 and the overall mobile phone shipments in the quarter stood at just 67.83 million units, that includes 15.06 million smartphones. Smartphone market crossed one billion shipments for the first time in 2013.
Feature phone market still has 78% share, compared to smartphones, but it is changing, mainly due to affordable smartphones. Smartphone market in Q4 13 grew tremendously, due to 5 to 6.99-inch screen size smartphones, that grabbed 20% market share.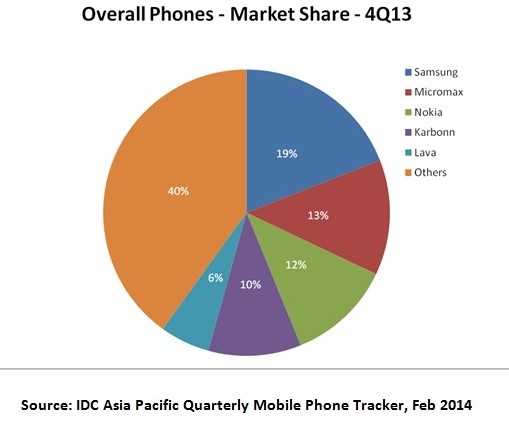 Even though Samsung and Micromax were at the top, as usual, Karbonn, Lava and Intex saw tremendous growth, says IDC. According to the chart, Samsung has 38% market share in Q4 2013, since their smartphone shipments grew about 37% in the quarter. Over 50% of phones sold were entry-level smartphones.
Micromax has 16% share in Q4 2013. Micromax A35 and A67 in the Bolt series contributed to the growth. Karbonn has 10% market share, again the top selling produces are from entry-level segment. Sony has 5% share and Lava managed to grab 5th spot with 5.7% share with strong sales of new Xolo A500S, Iris 402 and Iris 349. Nokia missed to grab the top 5 spot this time.
Smartphone segment would outpace the overall handset market growth for the foreseeable future with affordable feature-rich, large-screen phones, believes IDC.