At MWC 2014 in Barcelona, Nokia announced a series of devices that defied its partnership with Microsoft a couple of years back. Finally, Nokia announced its own Android running smartphones. But there is definitely more to it than meets the eye. Nokia hasn't embraced Google or its services through Android, but opened up Microsoft's services via Android fork.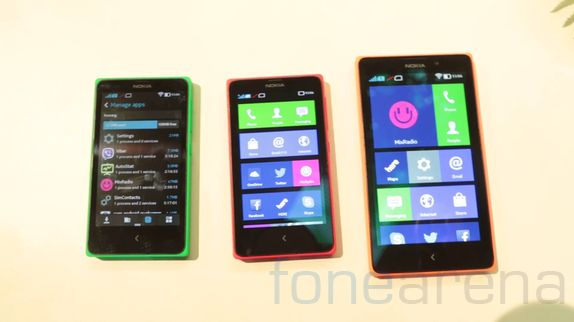 We managed to get our hands on all the three members of the Nokia X family and you can check out the family video right below.
Nokia aims to create these budget offerings as a step before Lumia range and Nokia has confirmed that Nokia Lumia devices will be the company's primary smartphone series. At the event, Nokia announced three Android running smartphones – Nokia X, Nokia X+ and Nokia XL. In terms of specifications, all the three devices are pretty similar. The difference between Nokia X and Nokia X+ is minimal. Nokia X+ comes with 768MB RAM while the Nokia X comes with 512MB RAM. The difference between Nokia X+ and Nokia XL is in their size – Nokia XL comes with a bigger 5inch display and a bigger 2000mAh battery.
All the devices share the same design language which seems to be a combination of Asha design and Lumia design philosophy. In terms of software, Nokia has created the Nokia X software platform which merges Windows Phone's live tile UI with Asha's Fastlane UI. The base Android core allows the device to run Android apps.