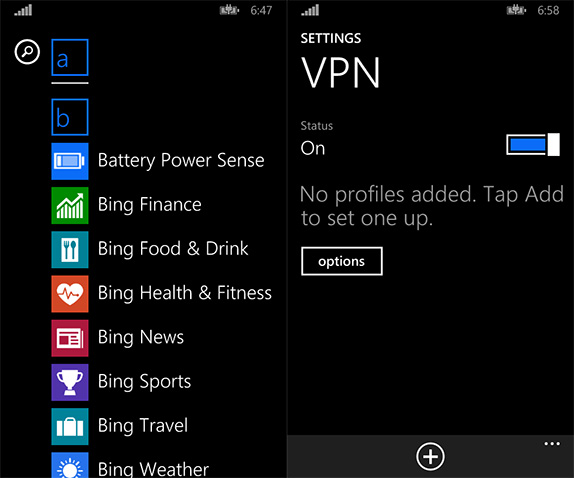 Windows Phone 8.1 might be unveiled to the public only in April at the Build developer event, but some enterprising developers have already been able to get a preview of the SDK, as reported earlier by TheVerge. We had expected more information to pop up once it became available, and thanks to a redditor, who claims to be a high-profile WP app developer(there is proof), some details of the next big update to Microsoft's mobile platform have leaked. While most of the details are developer-oriented, some of the long standing consumer complaints seem to have been resolved, like the support for installation of apps on the SD card, VPN support and the start of universal apps for Windows Store and Windows Phone Store.
"So I may or may not be part of the dev preview program" says the developer who posted this information. These are the most important leaks at this point in time (taken directly from the source) –
Universal apps is a template to build both WinStore and WinPhone apps from the same solution sharing code more easily (HTML/JScript)
Battery sense (see what apps are taking the charge), data sense and storage sense. Oh there is a new podcast app and bings app are installed by default.
There's finally VPN support and Wifi sense.
SD CARD install! But you can change the manifest to prevent your app from being install in SD.
Back button doesn't terminate the app. The whole life cycle is like winrt.
Other changes include a setting that would let a user change the default SMS app –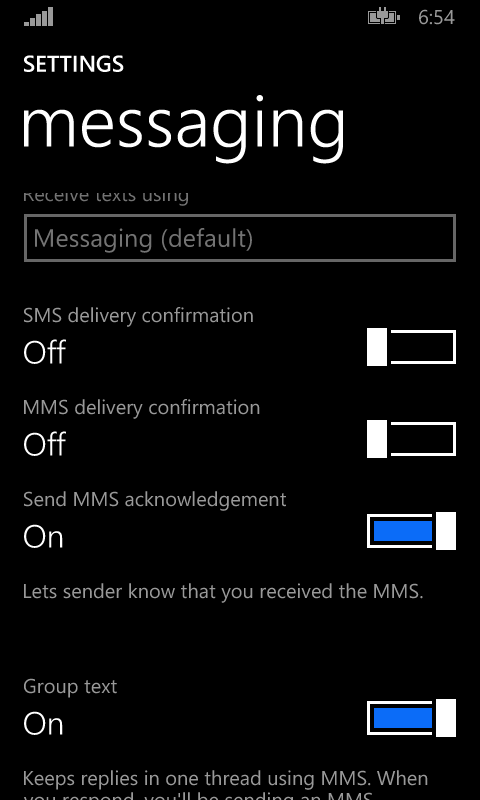 The developer also confirms that the background multitasking support has been completely revamped for Windows Phone 8.1, with it resembling more and more like Windows RT, meaning it has become better. The UI framework has been revamped and so far, it sounds like Microsoft is finally checking the tick marks in their to-do list. This release is a very early build for high profile developers to take note, but we think more will be revealed as the days go by.
Update: The Redditor has revealed more features –
The YouTube mobile site inside IE 11 can now play videos without going full screen, in the same page. It can go full screen in landscape though –
The operating system can now let app access a file picker, which might indicate the presence of a file manager in the OS. Here are all the new changes posted by the source –
EDIT: So the camera app has 3 new mode: camera, burst and video – Just like Nokia Camera it looks like

EDIT: Pivots, now called Hub, have smaller title. More screen space! – No more big "People Hub" fonts

EDIT: Lots of new transitions by default

EDIT: Progress ring from WinRT is here – The indefinite loading indicator is now circular!

EDIT: Get a sense of your storage 😉 and install your apps on your SD

EDIT: No new tile size from what I seen in the default apps and the SDK :/

EDIT: File manager? Docs talk about a file picker and saver. So there maybe a file manager in the RTM!
Here's a screen shot of the SD card installation support –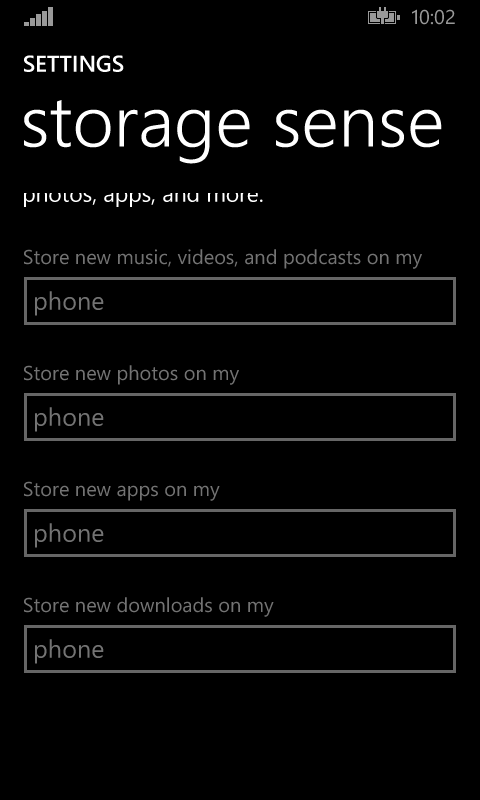 Now, you can swipe down to close the apps from the multitasking menu, a much needed addition after the hastily added close button on GDR3.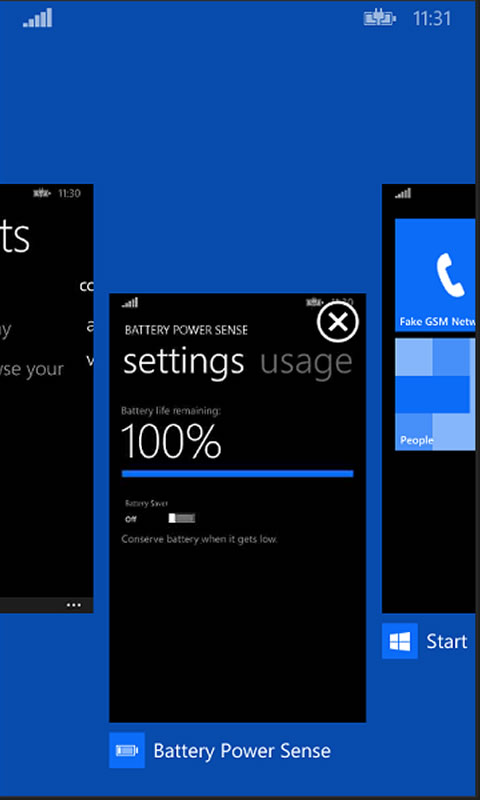 More leaks –
8.1 has support Wi-Fi Direct, a Wi-Fi standard allowing direct peer-to-peer connections over Wi-Fi without an access point
This means that Windows Phone 8.1 will have support for Miracast Wireless display, which is already present on Windows 8.1, here is a picture of proof –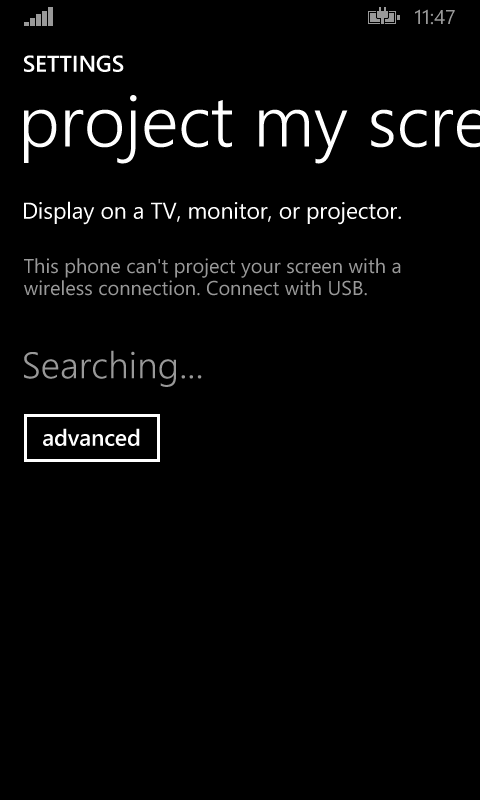 It's interesting to see that Miracast as well as MHL will be supported, as the screenshot clearly indicates wanting a USB connection for projection. There is also the confirmation of the earlier leak, separate volume controls –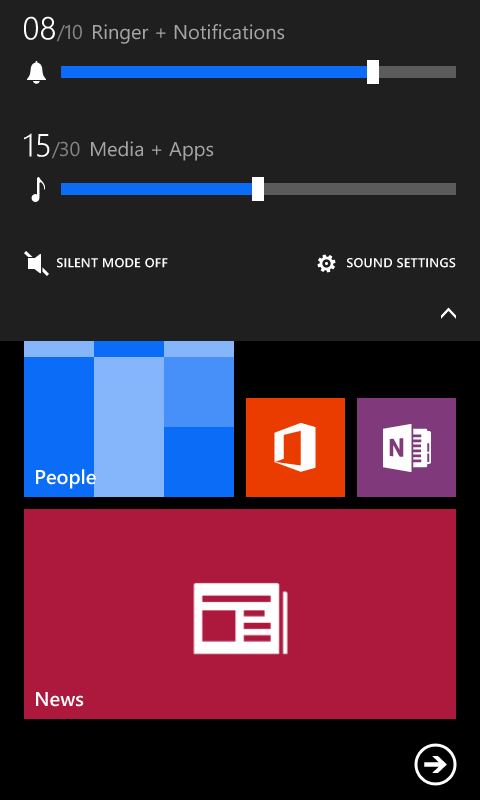 A lot more features have now leaked –
8.1 might support QHD 2560×1440 resolutions
On screen navigation bar support, with customization options
All Windows Phone 8 devices will be upgraded to 8.1
New NFC options for tap to pay
Contextual Volume control drop down
Options to turn advertising ID(tracking) on or off
And finally, Downloading files now possible from IE11!
All the screenshots here –