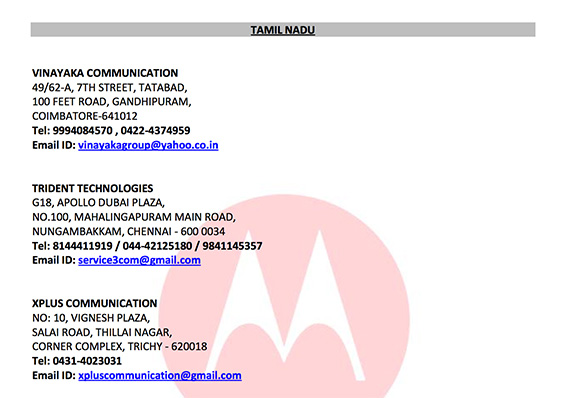 Motorola Moto G, the most highly awaited launch for the company here in India, just got more credibility with the leak of the list of Motorola Service Centers in India. This leak comes at a crucial time, just ahead of the February 5th launch Motorola has planned for releasing this device in India. The service center list is straight from the Motorola Mobility website, which lends a lot of credibility to the list, apart from it being Moto branded and all. A huge amount of doubt prevailed on how Moto was planning to bring back the distribution and service channels it abandoned, when it left the country years back, but now we are starting to see the details. The image above shows you just a glimpse of the list, which you can download as a PDF here –
Download the list of Motorola Mobility service centers in India (FoneArena can independently confirm that the list is real)
With the Lenovo deal set to happen at a later stage, the efforts for bringing the successful budget device to the world is still happening at its own pace. Initially believed to be coming within the end of January, it was quickly announced as February 5th as the date on which the company will reveal its launch details for India. On that note, we just saw Flipkart putting up the Moto G as "coming soon" indicating that they will be la launch partner of this device. So that ends the question of distribution channels while this leaked list ends the question of service channels for the Moto G and the other Motorola devices that eventually launch in India.
Read our Motorola Moto G Review
At launch, Motorola will have service centers in 21 out of 28 states in India, which is an impressive start. But due to the ubiquity of smartphone distribution, people might expect more number of service centers which Motorola might not be able to afford, as of now. Anyways, here is the complete list of states that will have service centers in various cities –

The pdf has the full list of service centers with contact information, so if you have a Motorola Moto G already, and possibly want to take it for repairs, the PDF will come in handy, so go ahead, download the PDF from the link above, and let us know what you think in the comments section below.
Thanks for the tip Suraj!