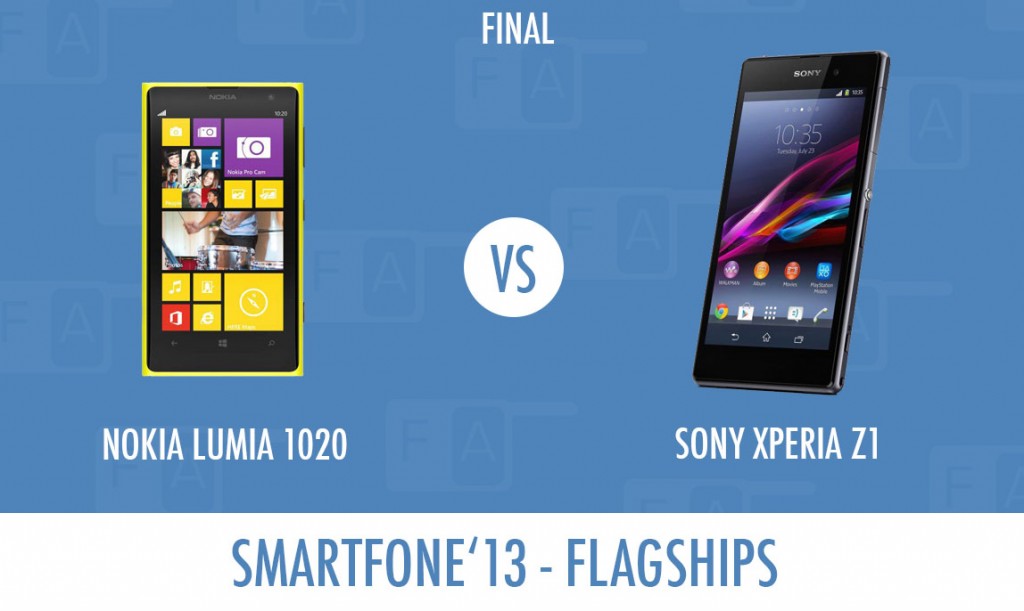 After two rounds of really close battles between 8 smartphones, we have come to the finals of the SmartFone 13 championship for the best smartphone of 2013. Two devices have made it to the finals and they are – Nokia Lumia 1020 and the Sony Xperia Z1. Both the phones are awesome on their own and have beaten two other capable smartphones to reach this stage, which removes even an iota of doubt on how great these two devices are. Both being the companies' respective flagships are packed with innovations as well as top class features. But which one do you think is the best of the two? Do you think one of them is good enough to earn the title of "Best Smartphone of 2013"?
Lets quickly go through both these phones' specifications one last time –
Nokia Lumia 1020 Specifications
4.5-inch (1280 × 768 pixels) Pure Motion HD+ AMOLED capacitive touch screen ClearBlack display
1.5 GHz dual-core Qualcomm Snapdragon processor
Windows Phone 8 OS
10.4 mm thick and weighs 158 grams
41MP camera with BSI sensor, Optical Image Stabilization (OIS), 6 lens optics, High resolution zoom 3x, Autofocus, Xenon Flash, LED for video, 1080p HD video recording at 30fps
Nokia Pro Camera app
1.2MP HD front-facing camera with wide angle lens
IHF speaker, 2 microphones, HD voice compliant, 3.5mm audio jack
LTE / 3G HSPA+ 41Mbps, WiFi 802.11 a/b/g/n, Bluetooth 3.0, GPS with Glonass, NFC
2GB RAM, 32GB internal memory
2000mAh battery, Wireless charging supported via option Charging Cover (CC-3066)
Sony Xperia Z1 specifications
5-inch (1920 x 1080 pixels) Triluminos Display with X-Reality for Mobiles
2.2 GHz quad-core Qualcomm Snapdragon 800 (MSM8974 (LTE) or MSM8274 (HSPA+)) processor
Android 4.2 (Jelly Bean)
Single Aluminium frame with tempered glass on the front and back
20.7MP Primary Camera with Exmos RS sensor, HDR photos & videos, 1080p video recording.
2MP front-facing camera with 1080p video recording
8.5mm thick and weighs 170 grams
IP55 / IP58 rating for dust and water resistance
3.5mm audio jack, FM Radio with RDS
2GB RAM,  16GB internal memory, Upto 64GB expandable memory via microSD card
4G LTE / 3G HSPA+, WiFi 820.11 a/b/g/n, Bluetooth 4.0 with APT-X, GPS/ GLONASS, MHL, NFC
3000mAh Battery with STAMINA mode
The main comparison factor between both these phones is the camera. The 20.7 MP Sony Sensor is one of the first Android phones to incorporate Oversampling by outputting clear 8 MP pictures in the Superior Auto mode. This is built on the same ideals as the Nokia Lumia 1020, but it absolutely produces a far superior picture at 5 MP or even lets you choose the full 41 MP pic, even with DNG as an option. While custom exposure controls are the best feature on the Lumia 1020's UI, the Xperia Z1 has a lot more fun features and even lets you shoot underwater, thanks to the phone's waterproof design and a mechanical shutter button. Clearly both the cameras have a lot going on for them. Sony's camera became way better in the recent software update, and similarly Lumia 1020 too, with the Black update. Camera features aside, the Xperia Z1 has the better on-paper specifications thanks to a bigger 1080p screen and Snapdragon 800, but the Lumia 1020 has not too bad of a display, but the internals are a bit old by today's standards. There is also all the other differences in terms of hardware and mainly software, but we will leave it up to you to decide on that.
Well, now it's upto you to choose which phone you want as the Best SmartFone of this year, vote –
Check rest of the standings here