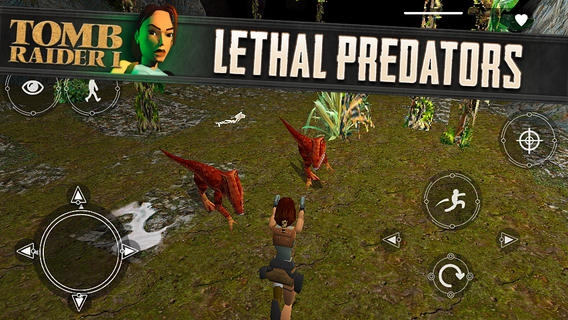 Tomb Raider, the highly acclaimed adventure video game franchise featuring the popular fictional character – Lara Croft as the protagonist, is now available on mobile, starting with the first and original Tomb Raider game. It is available for 0.99$ on the New Zealand iOS app store, with a universal binary for both iPhone and iPad and we hope to see it roll out to other countries real soon. The adventure game, where you play as Lara Croft, was initially seen as an adaption of the famous Indiana Jones movie franchise, but with a feminine twist. The original game features puzzles that need to be solved, creatures that need to be fought to ultimately attain a mysterious and powerful artefact. The game is controlled by virtual sticks and buttons, bringing back controls from the mid 90s, the time at which it released on the Sony PlayStation, Sega Saturn and the PC.
Here at last! The original genre defining adventure Tomb Raider now available for your iPad & iPhone.

Adventurer Lara Croft has been hired to recover the pieces of an ancient artefact known as the Scion. With her fearless acrobatic style she runs, jumps, swims and climbs her way towards the truth of its origin and powers – leaving only a trail of empty tombs and gun-cartridges in her wake. On this trail are breath-taking 3D worlds where exploration, puzzle and platform elements blend in a seamless real-time environment. A perfect chance for newcomers and diehards alike to jump back into the series' seminal single-player action.

•Epic Exploration – The lost city of Atlantis and ancient Egyptian pyramids are ripe for discovery: explore every hidden dark crevice and impossible heights; enter into strange, undiscovered lands and solve their deepest, darkest mysteries; open doors to new realms, uncover great rewards and unearth secrets to Lara's past.

•Acrobatic Gunplay – Deftly leap around charging enemies while you unleash a hail of bullets from your trademark dual pistols.

•Combat Lethal Predators – The wilderness awaits with a wide range of enemies from bears to wolves, intriguing Atlantean centaurs and the terrifying T-Rex.
What you see above is the description, which is exactly similar to what you might have played in your childhood. It is one of the first 3D third person games with combat and puzzle solving as the core of the gameplay mechanism, which was eventually adopted by various other games like Prince of Persia and even Uncharted. Square Enix, the company that makes the Final Fnatasy games, is the publisher of Tomb Raider I on the app store, and we hope to see it on the Google Play Store soon. The app costs 0.99$ and doesn't have micro transactions via in-app purchases. We'll be letting you know if the official release tell us anything about release on other platforms.