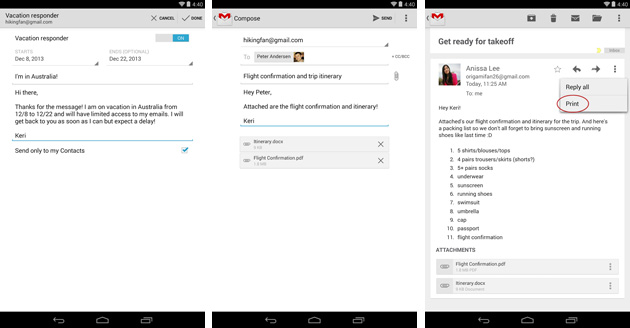 Android users have long lamented the absence of the ability to download zip files. In the new Gmail 4.7 update, Google has finally brought in the ability alongside additional features that should be appreciated by most users.
First up is the all new Vacation Responder. What this allows you to do is to set start and end dates along with a subject and text following which you can use the toggle to send your vacation response only to contacts. The vacation responder can also be completely disabled using a toggle.
The next major feature is  essentially something that is built into Android 4.4 KitKat. The Gmail 4.7 application gets the ability to print email messages via cloud printing. You can select a single message or all messages in a thread.
The third and most important feature is the ability to download archive formats including zip, gzip, bzip2 and tar amongst others. This has been a long requested feature and it is good to see Google finally implement it. The update should roll out to your phone over the next few days.
[Via – Engadget]