When Apple announced their iPhone 5s in a Gold color, other companies followed(others read Samsung and HTC) and announced their flagship devices in Gold variants. Samsung announced just a gold colored variant while HTC went the extra mile to make their flagship entirely out of 18karat gold. Now Samsung is following its own trend by announcing a Crystal edition of Samsung Galaxy S4. I say Samsung's own trend because in the past, Samsung had unveiled Crystal editions of Samsung Galaxy S2 and Samsung Galaxy S3 Mini.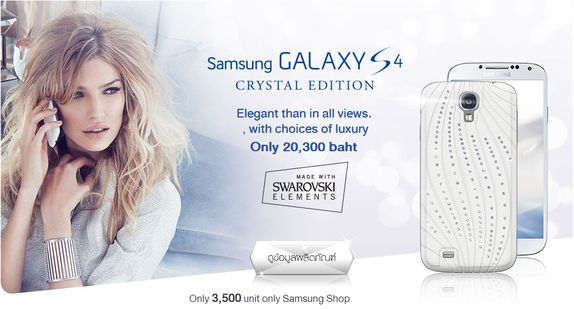 Samsung Galaxy S4 Crystal edition will be based on the International variant (I9500) and will come with the Exynos 5 Octa Core processor. The front of the crystal edition is the same as the regular edition while the back will have a Galaxy Note 3 like faux feather on which you have patterns and embedded Swarovski crystals. In terms of pricing the Samsung Galaxy S4 Crystal Edition will cost you 20,300 baht(Rs. 38,650 approx) in Thailand while the regular Galaxy S4 costs around 17,300 baht(Rs. 32,950 approx) in Thailand.
The device is currently available only in Thailand and can be purchased only from a Samsung store. There are only 3500 units that are available, so if you are in Thailand, and love Crystal phones, there is no reason you should wait. For others, this is just another Samsung news.