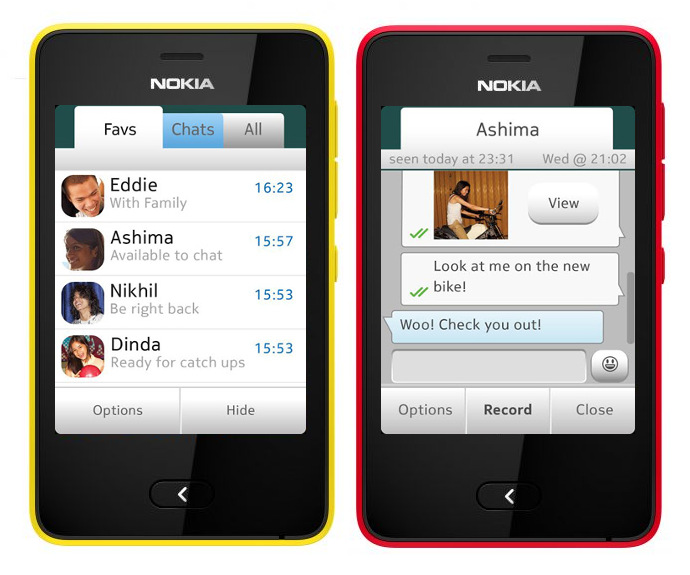 Nokia has finally released WhatsApp for Asha 501 through a software update as the company promised at the Nokia World last month. WhatsApp launcher will appear on your home screen after the update that lets you download and install the full app. In addition to the WhatsApp support, the major software update also brings the new UI and features present on the recently announced Nokia Asha 500, 502 and the 503 and WhatsApp comes pre-loaded on all these devices out of the box.
New features in Nokia Asha 501 software update 
WhatsApp support to message friends or send voice messages. using your 2G or Wi-Fi connection
Swipe up on the Lock screen to open the camera and capture an image just by touching anywhere on the camera screen.
Single swipe takes you into the gallery, and lets you edit your photos directly with a range of new filters and effects
Couple of taps to share images instantly to your favorite social network.
Set the default service to use (such as Facebook) for one touch sharing
Share more than one image at a time via e-mail
Fastlane now offers livelier and  personalized experience with more closely integrated networks that shows icons when someone has posted something new or commented on your own updates.
Personalize your Fastlane content, configuring which applications can show updates
Improved privacy features including option to  opt to see full notifications or notification icons in the Lock screen
Odnoklassniki, Sina Weibo, and Renren have been added to get live updates on Fastlane
API for Voice over IP lets you make voice calls over a data connection using social messaging apps such as Nimbuzz to start, with more coming soon.
Support for Microsoft Exchange ActiveSync
Here is an official video that shows off the new features for the Asha 501 after the update
httpv://www.youtube.com/watch?v=kkNID_N8AMM
The Nokia Asha 501 users will get a notification for the over-the-Air (OTA) update, which will start to roll out this week.