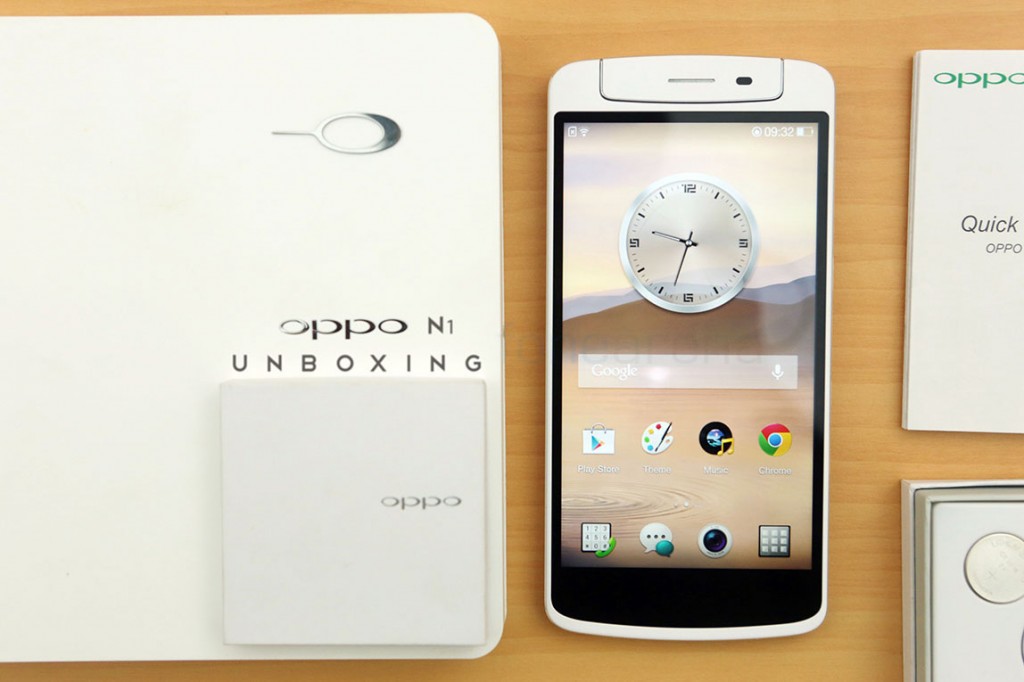 The Oppo N1 has landed at the FoneArena office today! As expected, we bring you the first look at the device through the unboxing of the gorgeous flagship device from Oppo. The Chinese company had announced this camera-centric flagship device as a part of its N-series smartphones, aptly naming the first one, the N1. While the camera is the most important feature of this phone, there is also the innovative OTouch rear sensor for an experience that you cannot see on any other phone out there in the market. With a 5.9 inch screen, this is the first Oppo device that firmly cements itself in the phablet territory and is unquestionably huge to prove that fact. So, how does it actually look and feel? Here's our unboxing video, featuring the device and the box contents, or rather the boxes' contents. Watch –
httpv://www.youtube.com/watch?v=H4s8elQOdwQ
There are actually two boxes as a part of this package. One houses the device and the components while the other houses the OClick Bluetooth remote control for remotely triggering the camera. Here is a picture of all the box contents lined up –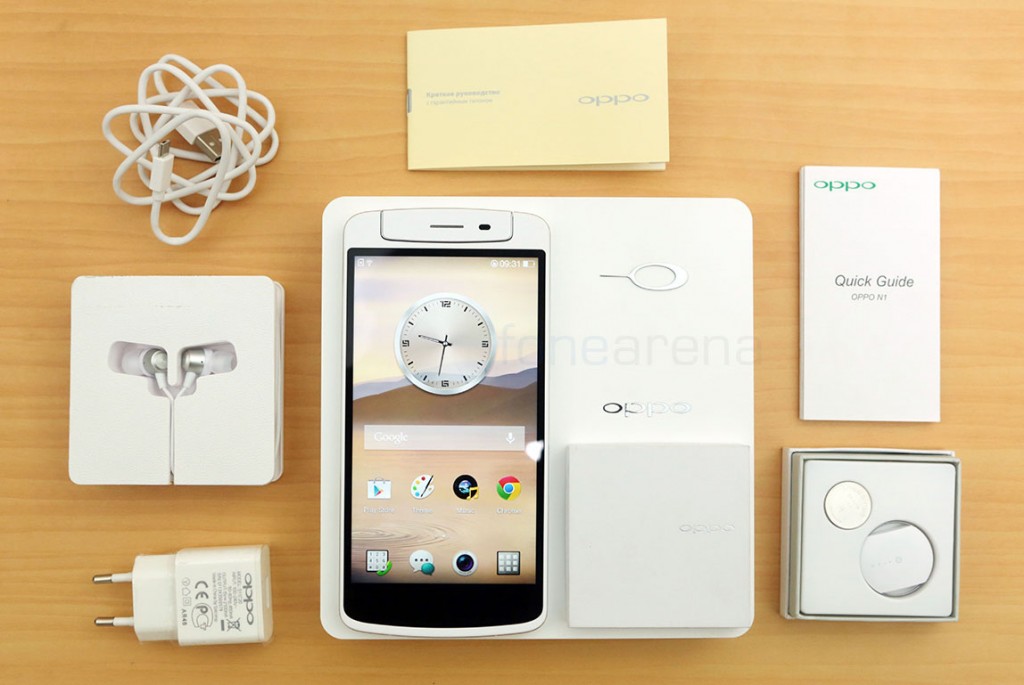 List of contents –
Oppo N1 in white
In-ear headset with mic
Travel Charger
Micro USB cable
SIM ejector tool
User manual and Quick Guide
OClick Bluetooth Remote in a separate box, with battery
As it was with the Oppo Find 5, the box packaging is very unique and feels very premium. In fact calling it premium is an understatement. That applies for the device too, which feels incredibly premium the moment you take it out of the box.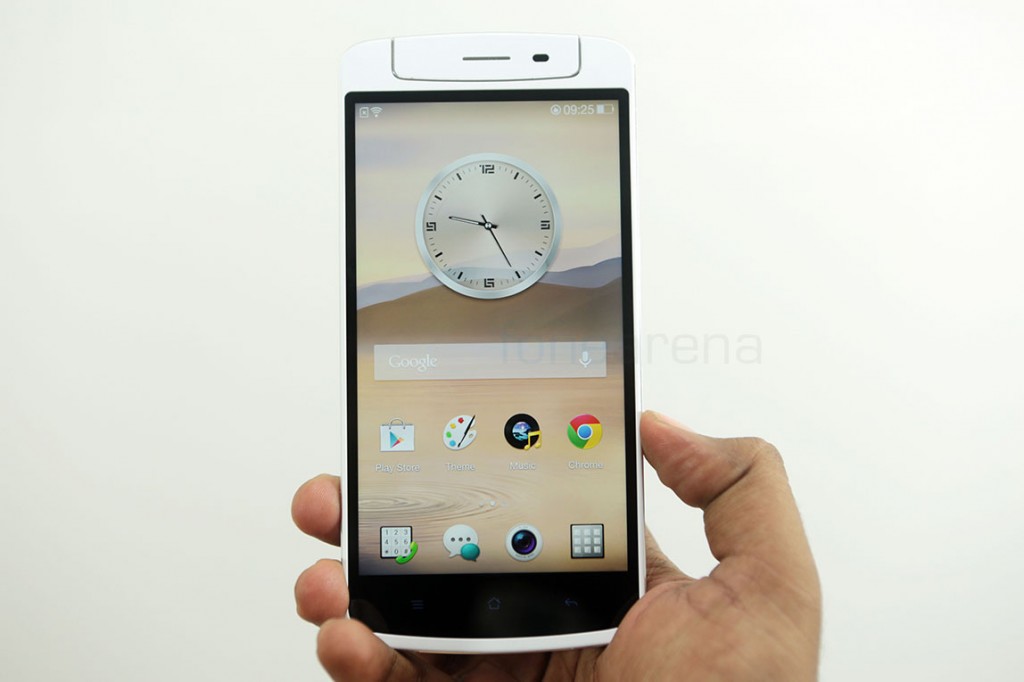 Yes, the device is huge, as you might have seen from the video, but the build quality makes it so enjoyable. The high quality plastic and the nice metal accents on the sides are a treat to touch and use. Talking of touch –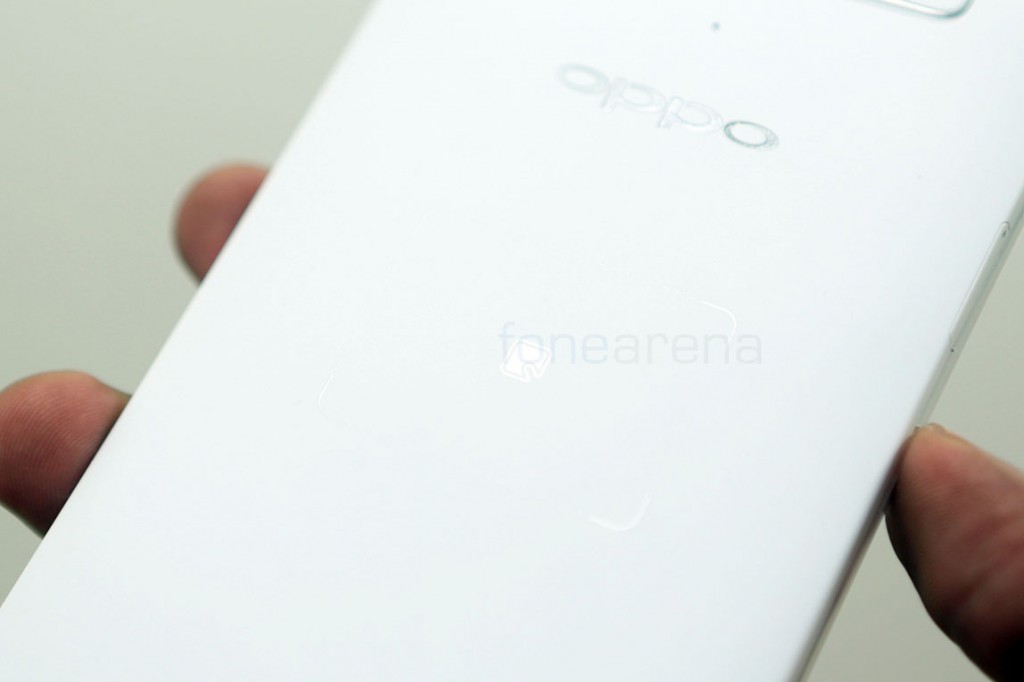 The Oppo N1's major innovation, at least according to the company, is its rear-touch sensor called the OTouch. This created some negative PR feedback for the company when it released a controversial picture on its social media channels. It was also highlighted as one of the most innovative features of the N1 at the press event but is it worth this hype? So far our first impressions have been that it needs to be more accurate, but we might be "doing it wrong". We took some time to get used to it, as the area highlighted for the touch sensor is a bit small.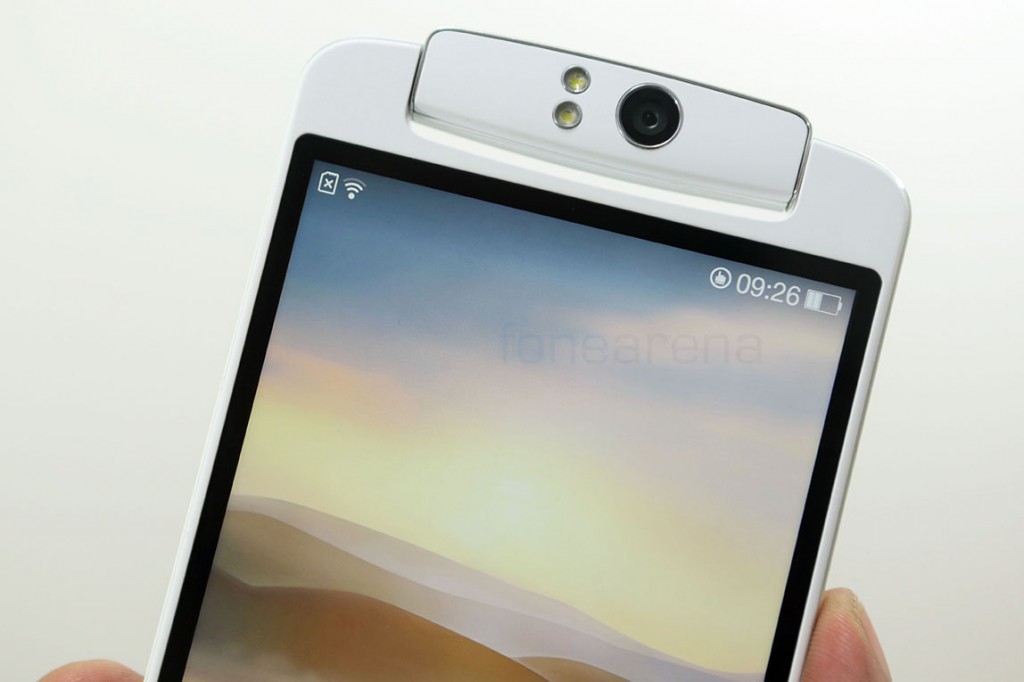 Another innovation is its swiveling 13 megapixel camera that lets you take full resolution selfies. How about that, eh? The camera is definitely an improvement over the Find 5, but it largely seems to be just software and ISP level optimizations as the sensor is the same 1/3.06″ EXMOR RS unit made by Sony. The Find 5 itself was pretty great, so this might meet our expectations as well.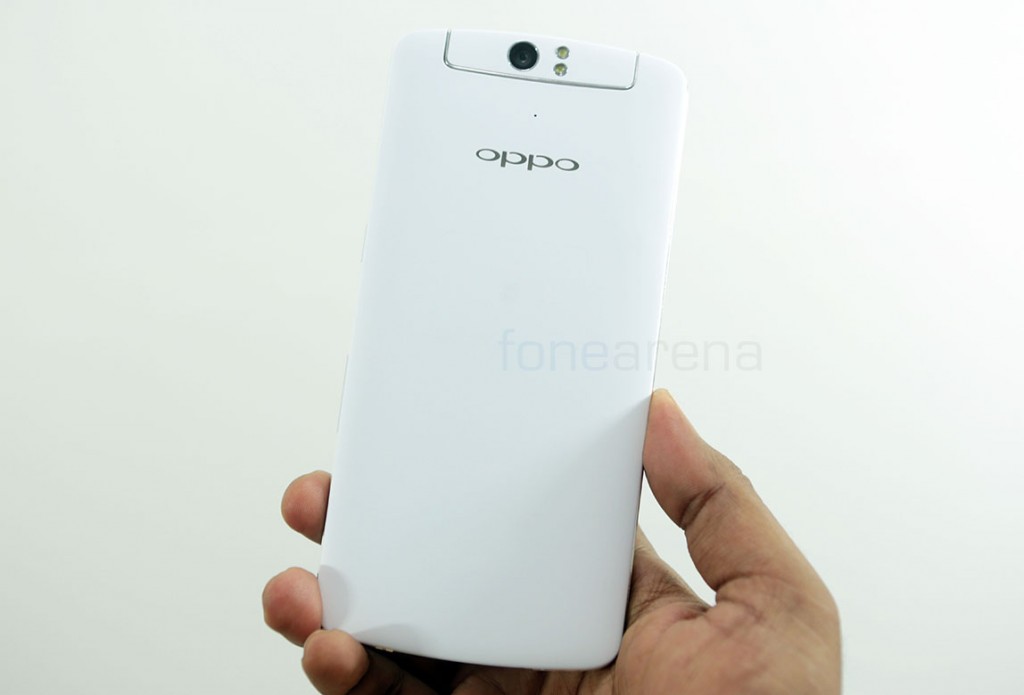 And finally we have the back of the device, which truly showcases the mega size of this device. It's truly a behemoth, no doubt about that, but a really classy and well built one. We had set some expectations about the build quality of the N1, but we personally think Oppo have surpassed them, again.
There's always more to say about this device, it has some truly stand-out features in hardware as well as software, so keep an eye on the blog as well as our YouTube channel for all the upcoming coverage about the Oppo N1. Anyways, it's time for you to tell us what you feel about this device. Do let us know what you think, and what you want us to show, regarding the Oppo N1.
More pictures of the box and its contents –