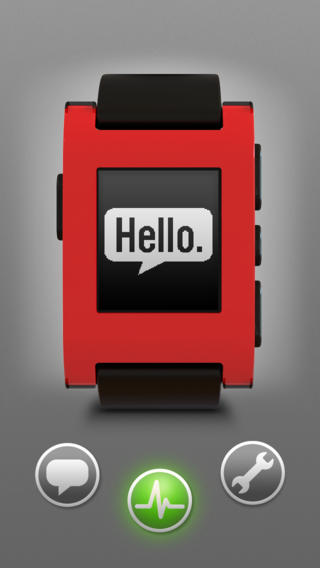 A few days back, Pebble, the Kickstarter success story that makes E-ink smartwatches, revealed their new 2.0 SDK with which developers could take advantage of the new capabilities and hooks in the software. It was also announced that there will be a new update to the Pebble Smartwatch app for devices running iOS 7, which will take advantage of the notification center Bluetooth APIs that Apple introduced with the new update. Well, that Smartwatch app update Pebble promised, which carries the version number – 1.3.0, is now live on the iTunes app store.
Download the 1.3.0 update for Pebble Smartwatch
The Pebble smartwatch is very well known for its kickstarter success and is considered a forerunner in the newly spurred Smartwatch phenomenon. The watch works with iOS and Android but previously, due to the lack of APIs, the Bluetooth watch could not notify the user for third party apps in iOS, which was actually possible with Android, yet only with a third party app. But with Pebble's user base primarily on Apple devices, the company seems to have worked hard on improving the app after Apple let loose new Bluetooth LE APIs in their controversial, yet feature rich iOS 7 update.
What's New in Version 1.3.0

Now get all your notifications. Pebble now supports the enhanced notification system in iOS 7 (for iPhone 4s devices and higher). The latest Pebble OS software update (v1.13.0) is required.
The new update now enables all the notification center notifications to be passed on to the Pebble, which is probably the best thing that can happen to Pebble users using iOS devices. As mentioned above, it will require the latest firmware to be installed on your smartwatch, which the current Pebble app will automatically do, once you connect.
For users on Android, a third party app "Pebble Notifier" did what the official app couldn't. It let every Android toast notification be sent to the smartwatch, even with full detail. With the open nature of Android and the Pebble Notifier app's already prominent existence, it's been told that the developers concentrated on iOS first but will eventually do the same for Android, at a later stage. We will be letting you know if we find any information about the official Android update, but for now, iOS 7 users can finally enjoy the full notifications support on their Pebble Smartwatches.
P.S: We had already unboxed the Pebble Smartwatch when it launched in retail, do check it out.