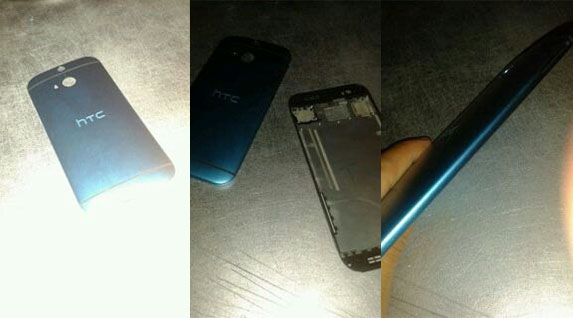 The first pictures of the HTC One successor, codenamed M8, have leaked out. If you remember right, the HTC One was codenamed M7 and was similarly leaked well in advance of its official Pre-MWC launch. As expected, the specifications too have been tipped by the source who claims to have seen and taken those above photos of the M8. The obvious inferences we can make from the photos is that HTC will be continuing with the unibody construction that it has been lauded for, but this time, it will be even better, with the body wrapping around the sides too. The colour seems to be the cool Vivid Blue, that the HTC One was recently released in.
The specifications too have been leaked out, with claims of 5-5.2 inch display at a 2K resolution, Snapdragon 800 Chipset, 3 GB of RAM and even a fingerprint sensor, like the One Max. There is a hole above the top of the camera on the leaked pictures, that point to a finger print sensor, albeit smaller than the one on the One Max. The whole phone's exterior is expected to slightly larger than the One, with the bigger display and more top end specifications in tow. On the software front, it's claimed to run on a newer Sense 6 UI, but no details have been revealed yet. The device is slated for a MWC release, exactly one year after the One.
It's always wise to take these leaked specifications with a pinch of salt, and that's what we are going to do, even when it seems very real. We appreciate the changes to the casing and are looking forward to seeing how it can better the One, which is arguably still one of the best looking Android Smartphones in the market. So, what do you think of this leak? Let us know in the comments section below.
Source ePrice via UnwiredView