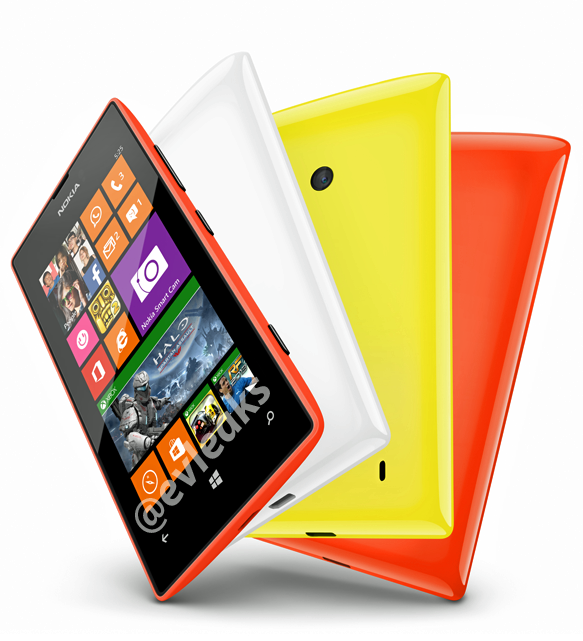 The press image and specifications of the upcoming Nokia Lumia 525 have leaked out, shedding more light on what it might look like and what it might pack inside. Firstly, the press image comes via @evleaks with no additional information while the other leak, from the Chinese network Baidu reveals a lot more than we already know about this rumoured device. Supposedly the successor to the extremely popular Lumia 520, the device looks to sport a slimmer and curvier body from the looks of the leaked image above, and in accordance to the tag of being a successor it also reportedly comes with a 1 GHz Snapdragon 400 processor with 1 GB of RAM among other things.
Here are the complete leaked specifications of the Lumia 525 –
•Operating System: Windows Phone 8.
•Networks: WCDMA 900/2100, 850/1900/2100, GSM/EDGE 850/900/1800/1900.
•Speed: 3G HSPA+ (21Mbps).
•Memory: 1 GB RAM, 8 GB mass memory, support for microSD cards up to 64GB, 7GB free SkyDrive storage.
•Display: 4" IPS LCD WVGA (800 x 480 pixels) 16M colors, 2D hardened glass, super sensitive touch for finger nail and glove use.
•Processor: 1 GHz Dual-Core Snapdragon™ 400.
•Camera: 5MP autofocus, video recording HD 720p 30fps.
•Size: 119.9 x 64 x 9.9mm.
•Weight: 124g.
•Connectivity: WLAN IEEE802.11 b/g/n, Bluetooth 4.0, Integrated A-GPS, 3.5 mm audio connector, Micro USB with charging, USB 2.0 High Speed.
•Battery: 1430 mAh.
•Audio: single digital microphone, 3.5mm AV connector, MP3 player, Nokia BH-121 Bluetooth Stereo Headphone.
As you can see from above, the main change seem to be 1 GB of RAM and nothing else. This change will help the Lumia 520 more app compatibility and honestly, all Windows Phone 8 devices should have sported 1 GB of RAM at the release. With this small change on the insides and the cosmetic change on the outside, Nokia probably hopes to court potential customers who were left unimpressed by the incompatibility of many games that require 1 GB of RAM. Talking of cosmetic changes, it seems like the 525 will come in a bright orange colour with Yellow, White and hopefully, Black and Red being the other options. We have a doubt whether this is going to be a successor or just a variant for some new launch markets.
Was the Lumia 520's 512 MB RAM the only deal breaker for you? We personally think they should change the display and the overall chunkiness too(which we hope they would?). Let us know what you think in the comments section below.
Source Baidu