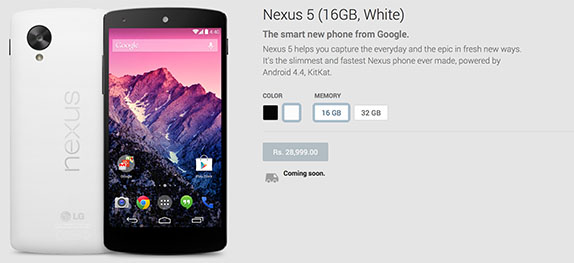 The just announced Google Nexus 5 has been spotted on the Indian Play Store, with it listed as "coming soon" to India along with the price tags of Rs. 28,999 for the 16GB version and Rs. 32,999 for the 32 GB version. The Nexus 5 was just announced by LG and Google, but had leaked like a broken cauldron over the internet for the past few weeks and even months. The phone has a 5 inch full HD IPS screen with LG's own in-cell touch technology and is powered by the blazing fast Snapdragon 800 processor, among many other hardware features. It also runs on the latest version of Android – 4.4 KitKat which has been spruced up with new user interface changes, a changed dialer, and a lot more under the hood for developers to take advantage of. Now that the phone has been announced, we think it might not take long to arrive in India as the listing has already shown up on the Indian Play Store.
Nexus 5 will be available for purchase in either black or white, no contract required, on Google Play™ starting today in the United States, Canada, France, Germany, Italy, Spain, U.K., Australia, Korea and Japan. Offline availability in Europe, Central/South Americas, Asia, CIS and the Middle East will begin in mid-November.
The key information we have to take away from this quote is that the Nexus 5 is on its way to many countries "offline" and we have good reason to believe it's coming to India too. (Offline = without Play Store) If you had seen the recent leaks that made their way on to the internet, you would have noticed that even the retail packages were part of them, so there are high chances that retailers all around the world have already gotten their hands on the Nexus 5, and to believe that will be the same in India is not far fetched. Also, India is a big offline market, meaning Google Play Store availability of the Nexus 5 is mandatory, hence we have high chances of getting it directly through retail in fact. So, lets hold on for the official update and hope retailers in India have stocks by mid-November or perhaps sooner.
So, now that you know the prices for the two variants, are you picking one up? Let us know what you think in the comments section below.