Google is either very bad at keeping things under wraps or it has just found a new way of promoting its future products. Last year's Google Nexus 4 launch happened only after everyone was familiar with its specifications and because of that, Nexus 4 was declared as one of the worst kept secrets prior to launch. Like how the Nexus 5 is expected to succeed over the Nexus 4 in terms of specifications, it has also succeeded in leaking more times than its predecessor. After all the numerous rumors and leaks, WIND Mobile from Canada made the pre-registration page for Google Nexus 5 live even before Google announced their next flagship.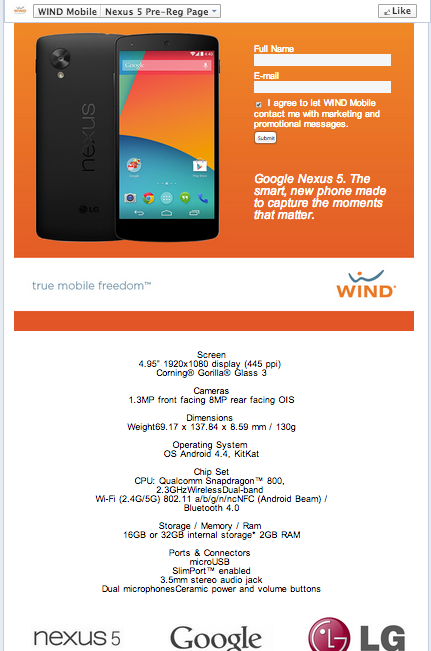 Thanks to the pre-registration page, we now have the full specifications of the Google Nexus 5 which we were already quite familiar with. The highlights of Google Nexus 5 are as follows
4.95-inch Full HD(1920×1080) display (445 ppi) with Corning Gorilla Glass 3 protection
Snapdragon 800 SoC clocked at 2.3GHz, 2GB RAM and Adreno 330 GPU
8MP rear camera along with OIS(Optical Image Stabilization)
130 grams weight
Dimension – 69.17 x 137.84 x 8.59 mm
Connectivity – Wi-Fi (2.4G/5G) 802.11 a/b/g/n/ac, NFC (Android Beam) / Bluetooth 4.0
16/32GB internal storage
Android 4.4 KitKat
The Google Nexus 5 previously made a quick appearance in Google's Play Store and was priced at 349$ for the 16GB version which is pretty much the same pricing as the Google Nexus 4. Google is expected to unveil Google Nexus 5 along with Android 4.4 KitKat sometime pretty soon.