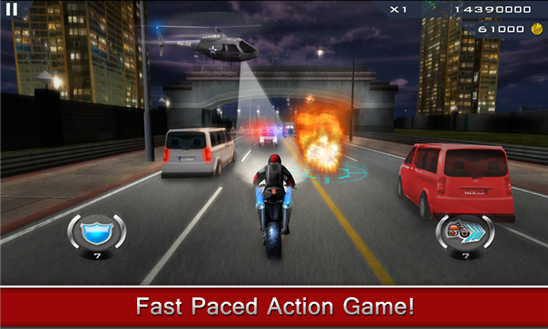 Another day, another exclusive game/app for Windows Phone in India. Just after Krrish3, we now have Dhoom 3, another highly awaited multi starrer sequel in Bollywood this year, is getting its own game. Publishing games for movies is kind of a new marketing avenue for the respective movie producers and Yash Raj Films, Dhoom 3's maker acknowledges this, by partnering with game dev 99Games Online Private Limited to release the Dhoom 3 game. It is an endless 3D moto racing game, which follows the popular formula of Temple Run and Subway Surfers with perks, power ups and feels like a good fit in this genre. You play Aamir Khan, whose bike you maneuver, who is being chased by Abhishek Bachchan and Uday Chopra in two other bikes, and thus begins the endless chase to fight your boredom.
You can download the game from the Windows Phone Store here. And here's a trailer for the game, it's CG and does not represent actual gameplay –
httpv://www.youtube.com/watch?v=U0zuM-sWROs
Here are the highlights of the Dhoom 3 game –
3D Superbike endless racing game set against the skyline of Chicago
State-of-the-art graphics for slick gameplay
Fast paced action that will test your reflexes
Responsive Accelerometer and Tap Controls to steer you to victory
In-Game coins can be used to buy cool bikes, racing suits and Power-Ups
Nitro boosts will enable extreme speed
Sonic Pulse blasts will clear your way
Shields will protect you
We tried out the game for a bit and it seems nice. Decent gameplay and responsive controls make for a good experience, but we hope they fix the sound stutter. That said, it is interesting to see big budget movies resorting to Hollywood style marketing these days. We have seen this for quite some time now, but at least now, the game's quality is not that bad, but certainly could do better. No word on iPhone and Android availability, as it doesn't seem like a timed exclusive, but there's an added incentive for Windows Phone users to get this game –
Hang on! There's more. Starting 10th November, Microsoft and Dhoom:3 are partnering to launch a nationwide Windows Phone Dhoom:3 contest for college students. And guess what? The winner – yes you guessed it right – gets to meet Aamir Khan in person!
There you go, the winner of an unnamed college contest will get to meet Aamir Khan. We think that targeting college goers is a good marketing ploy for the movie as well as the platform. So, what do you think guys? Do you like the Bollywood movie-games tie ups? Let us know in the comments section below.