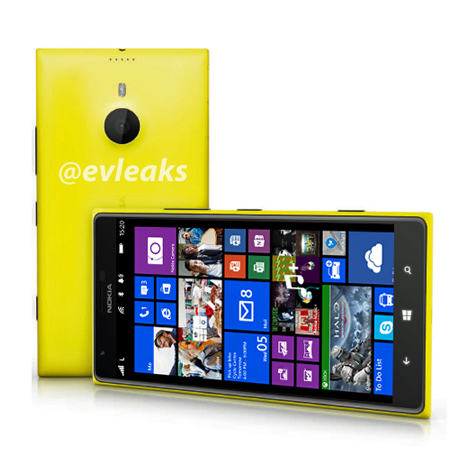 The Nokia Lumia 1520 has finally leaked in full glory. We saw the 1080p GDR3 screenshot, we saw the aluminium case and the bezels, and then we saw the phone's rather huge front in another leaked image, but this time, thanks to the leakmeister EVleaks, we have a full press image. From the looks of it, it is definitely made in polycarbonate, with the design closely resembling the Lumia 925, and the device is… just massive. If you don't think it's huge, just take a look at the Windows shortcut capacitive keys. It is also nice to see that the phone has really thin bezels.
Previously, it was claimed that the screen size would be 6 inches, which seems to pretty much a fact after so many leaks. With 1080p support added to Windows Phone 8 in the GDR3 release, Microsoft has thought adding a column of medium sized tiles would make a good idea of utilizing real estate. But I think they are very wrong this time, the screen looks too busy and cluttered to make it a clean experience, which Windows Phone WAS known for.
Other rumoured specs include a Quad Core Snapdragon CPU, a 20.7 Megapixel camera(like the Xperia Z1?). But ever since the Microsoft Nokia acquisition announcement, we have a doubt that if this will be a Nokia branded phone or a Microsoft branded Lumia? Our bet is on it still being Nokia branded as the deal will be closing only by 2014, but the marketing message should slightly vary, with more emphasis on Lumia rather than Nokia. The GDR3 update is said to launch with the Lumia 1520, which we hope will bring some much needed improvements like a simple rotation lock, different volume profiles. Lets not kid ourselves though, Microsoft might just give us nothing in this update, because that's how it has been till now.
That said, lets see what Nokia has for us this month, as an event is rumoured to happen on the 26th of September. Will this see the announcements of the Lumia 1520 and the Nokia tablet? We'll find out real soon.