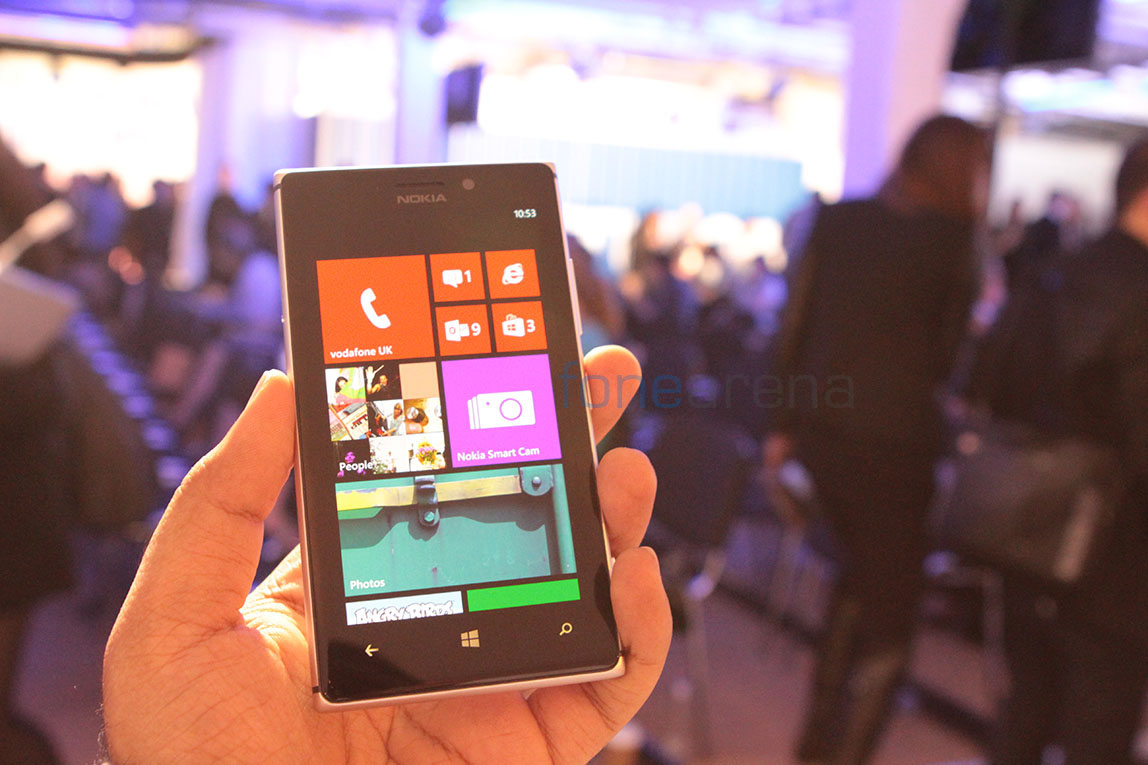 We just witnessed the Nokia Lumia 925 go on sale from the official Indian online store for Rs. 34, 169 but curiously, without much fanfare. Well, Nokia has compensated for that now, with their launch event in New Delhi today. Yes, the Nokia Lumia 925 is finally official, and comes with a price tag of a slightly lesser Rs. 33, 499. The latest all rounded flagship from Nokia is aimed at fixing the few hardware problems the Lumia 920 had, for instance, the design, build and weight. Sporting an all new aluminium build with some hardware improvements like the six element camera lens, the Lumia 925 is for people who didn't want the Lumia 920 because of the bulk or the used up design.It is kind of interesting to see that Nokia has built a nice little portfolio of Windows Phone devices for India with over 12 devices being introduced in the market so far.
Nokia Lumia 925 Specifications
4.5-inch (1280 × 768 pixels)Pure Motion HD+ Super AMOLED capacitive touch screen ClearBlack display
Metal frame around the body
1.5 GHz dual-core Qualcomm Snapdragon processor
Windows Phone 8 OS with Amber update
8.7MP camera with Optical Image Stabilization (OIS), Autofocus, short pulse  high power dual LED flash, 1080p HD video recording at 30fps
1.2MP 720p HD front-facing camera
IHF speaker, 2 microphones, HD voice  compliant, 3.5mm audio jack and FM Radio
3G HSPA+, WiFi 802.11 b/g/n, Bluetooth 3.1, GPS / aGPS, NFC
1GB RAM, 16GB internal memory
2000mAh battery, Wireless charging supported via accessory cover
Running on the latest version of Windows Phone atop Nokia's own firmware called the Amber update brings various usable improvements to the operating system, for example the glance screen and the double tap to wake option.You can check out this video in which we have detailed most of the new Amber update improvements. The only thing we haven't talked about here is the addition of call/SMS blocking-filtering that was recently added.
httpv://www.youtube.com/watch?v=ACOEAbO9Em8
It also brings under the hood improvements to the camera, like the new algorithms for finer details, better decoding of photos in the gallery app and lots more. Amber also enabled Nokia Lumia 925 to run the brilliant Pro Camera app that launched with the Lumia 1020. With these improvements, updates and new apps, Nokia has really stepped up in terms of photography, not just with the Lumia 1020, but with their other devices too. After our initial tests with its brethren showing the Lumia 925 in good light, we have planned to start a series of camera-focused tests on FoneArena.
We'll be testing out each and every feature of the Lumia 925 in the coming week, and will be posting our results for you to see. With the Lumia 1020 already launched, we are also gonna see if the Lumia 925 is still good as a rounded flagship smartphone, with our complete review in the coming weeks. So, you know what to do. Follow us on Twitter, Google+ and Facebook if you haven't already for all the upcoming updates on the Lumia 925 and stay tuned!