Nokia today launched 2 new phones for the budget-minded customers in the emerging markets like India and China. The Nokia 2600 Classic and Nokia 1209 are for budget-minded consumers and offer range of features and exchangeable covers. Nokia 2600 will be available in emerging markets in Q1 2008 and has started shipping from Nokia manufacturing facilities. Nokia 1209 will be made available in Q2 2008.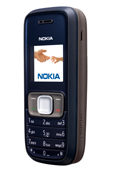 Nokia 2600 has FM radio, VGA camera, MP3 compatibility, changeable covers and other range of features. Nokia 2600 has customizable colors, which is its USP.
Nokia 1209 has many innovative features like pre-paid tracker, a cost-tracking application, and the multiple phonebook – which allows up to five people to store personal contact lists of up to 200 numbers on a single phone. Nokia 1209 is resistant to dust, supports 80 languages and has one-piece key mat.
Nokia in their press release says that this key mat is durable and reliable but, they had a similar kind of key mat for Nokia 5500 Sports but, I don't think so it is that much durable, see for yourself. Anyways, I hope 1209's key mat is not like this. The phones look good and I think they have a promising future in emerging markets.
[Original Nokia Press Release]