Asus, the manufacturer of the Nexus 7 tablets would make the next-gen Nexus 10 tablet, according to a report from Geek.com. Samsung manufactured the first Nexus 10 tablet that was released back in October last year. Back in July, Amir Efrati, a WSJ reporter tweeted that Google's Sundar Pichai told him that new 10-inch Nexus 10 Android tablet (made by @Samsung) would come in near future. Now he says that the original tweet was badly worded, and the tweet actually meant currently made by Samsung and Sundar didn't specify maker.
The first tablet had a 10″ display at a resolution of 2,560 x 1,600 pixels and was powered by a 1.7 GHz Dual-core ARM Cortex-A15 Exynos 5 dual processor with Mali-T604 GPU. Since the next-gen Nexus 10 is also expected to come with a 10-inch display, it might have same resolution and run on a Snapdragon processor since the new Nexus 7 tablet has a Snapdragon S4 Pro chip instead of the Tegra 3 chip in the last-year's Nexus 7. No details about the specifications yet, or whether this would come with LTE/3G support like the new Nexus 7.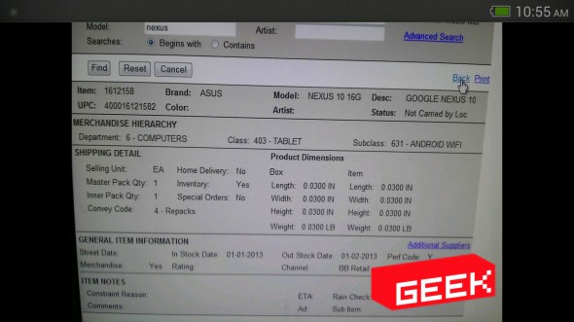 The website has also shared a screenshot of the retail inventory that shows Google Nexus 10 16G WiFi model with manufacturer brand as Asus. Other details like date and dimensions are wrong, which might be placeholders. The New Nexus 10 tablet is expected later this year. Samsung is also rumored to launch 12.2-inch and a 10-inch tablet with high-res display and Snapdragon 800 chip later this year.
Source: Geek.com