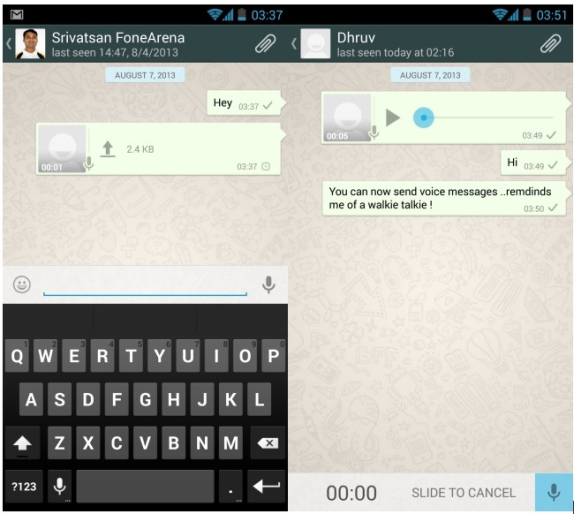 WhatsApp has added an interesting new feature to the service in the form of push-to-talk Voice Messaging. You can send and receive voice messages  with your contacts on WhatsApp for free.Users must start seeing a microphone icon next to the text input area and you can press and record your voice message and send it. You can play the messages too once they are sent.I'm wondering how operators would react to this considering this might have an impact on traditional calls.
This was first reported by BGR.in according to a reader who had seen this functionality on an iPhone.
WhatsApp has now officially announced the new feature. This comes at a time from the service is facing stiff competition from other similar services such as WeChat , LINE and Hike. This voice messaging feature is already present in WeChat and you might have seen Parineeti Chopra demoing it on screen in the WeChat TV commercials. This update on WhatsApp should be available across all platforms WhatsApp is currently available on including iPhone , Android , BlackBerry and  Windows Phone. Interestingly there seems to be no time limit on the length of the audio recording.
Let us know if you have got the update. Do you plan to use this feature ? Would you find it useful ?