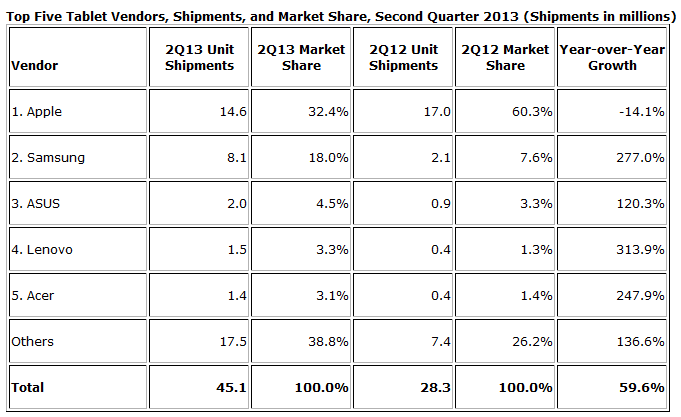 What started with Kindle Fire is now the leading form factor in the tablet space. Yes, thanks to the booming small tablet market, Android is surging ahead at no. 1 spot in the tablet space too, with Apple losing marketshare and not growing along with the market. IDC had released its Smartphone marketshare analysis recently, which saw Apple growing at a slower pace than the others and that seems to be the case in tablets too.
As you can see from the table above, Apple has actually lost 27% marketshare to other players like Samsung which is now at 18% of the market as opposed to just 7.6% last year. Apple has also shipped just 14.6 million iPads when compared to 17 million iPads the same time last year.Players like ASUS, Lenovo and Acer all have seen triple digit growth and there are no signs of slowing down which spells trouble for Apple. However, IDC analysts suggest that it is due to the lack of a launch from Apple in March that has led to the overall market slow down.
With no new iPads, the market slowed for many vendors, and that's likely to continue into the third quarter. However, by the fourth quarter we expect new products from Apple, Amazon, and others to drive impressive growth in the market.
With regards to OS share –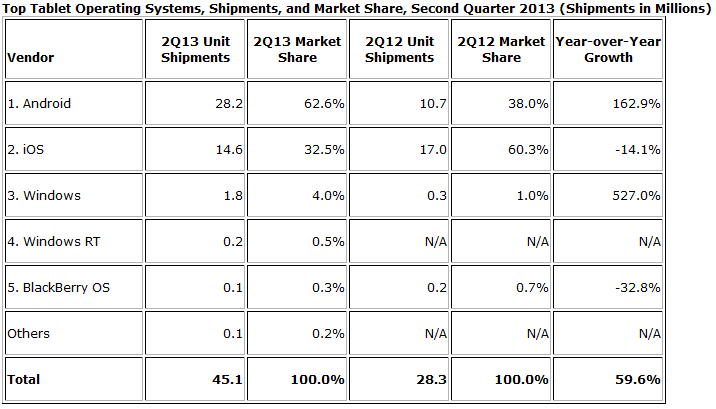 Android rules the roost with 62.6% marketshare, which is similar to what Apple enjoyed last quarter. It's almost like Android and iOS switched places in a year, and even the introduction of iPad mini doesn't seem to have done any damage. The new entrants Windows 8 and Windows RT have sold only 2 million in half an year after introduction, and is obviously growing, but Android is still growing at a faster pace than the market at 162.9%. This growth is mainly attributed to the various OEMs selling small 7 inch Android tablets all around at crazily low prices.
The tablet market is still at its infancy with just 45 million devices sold in a quarter. Compare that to a 289 million strong smartphone market and you can understand why the market for tablets is immature. The first mover advantage has been with Apple but others have caught up. With yet another new entrant in Windows, Apple faces an uphill task of convincing new users and existing users to stick with the platform. Will the new iPad help bring back the marketshare to Apple? We'll find out.