Google unveiled the second generation Google Nexus 7 on July 24th in the Breakfast with Sundar Pichai event in San Francisco. The Google Nexus 7 2 will initially be available in USA and will gradually roll out across the globe and will eventually come to India. But ahead of its arrival, the original Nexus 7's price(16GB version) has reduced and NDTV Gadgets has spotted the device for Rs. 11,999 in Amazon by one retailer – GadgetsGuru.
The reduced prices are available only on Amazon at the moment, but we can expect the prices to come down in most of the stores. The 32GB version of Nexus 7 has also seen a price drop to Rs. 15,999. The 16GB and 32GB versions are now available for Rs 15,999 and Rs. 18,999 respectively in Google's Play Store.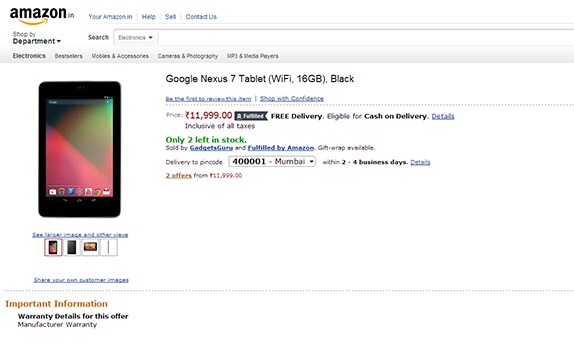 Last year's Nexus 7 has a 7-inch (1280×800 pixels) IPS display and is powered by a 1.2 GHz quad-core Nvidia Tegra 3 processor with a 12 core GPU. It received the Android 4.3 update along with the recent Nexus devices recently. The new Nexus 7 is lighter and thinner than the original Nexus 7. It has a powerful Snapdragon S4 Pro processor, 2GB of RAM, Adreno 320 GPU and comes with latest version of Android – 4.3 Jellybean. The new Nexus 7 also comes with global LTE support and will be available in three variants – 16GB WiFi only (US $229), 32GB WiFi only (US $269) and 32GB WiFi and LTE (US $349).
Google's new Nexus 7 is listed as coming soon to India, but there is no information regarding the dates or pricing.
Source: Amazon.in 1,2
Report Contributed by Monish Kumar.