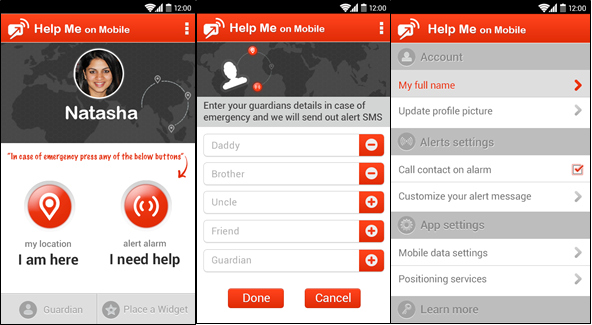 OnMobile, leading provider of value-added services (VAS) has launched Help Me on Mobile, a free 24×7 mobile application targeted at the personal safety of women, children, young adults and senior citizens. This app would let them call for help during emergencies during medical emergencies, crime situations (eve-teasing, theft, rape, stalking, etc.) and accidents (road accidents, fire and other mishaps).

Features of Help Me on Mobile for Android
I am here and I need help features in the app are designed to ensure personal safety and are easily accessible
I am Here service lets family and friends of the user track his/her location
In case of receiving any panic alert via SMS from the user's number, they will be able to track the exact location.
I need Help service raises an alarm in crisis situations and simultaneously sends alerts to family and friends
When an individual defines a closed user group (CUG), everyone in the group gets a series of educational messages to know why they get panic messages and how they can react to save their friend in crisis situations.
When the panic button is pressed an SMS is sent out to the selected CUG – "Help me. I am in danger".
Once the user activates the alarm service, the device immediately sends out a Dramatic Alarm and periodically sends the user's update to them
Help Me on Mobile is now available for the Android from the Google Play Store for free. It would be available for Symbian and Java platforms soon.