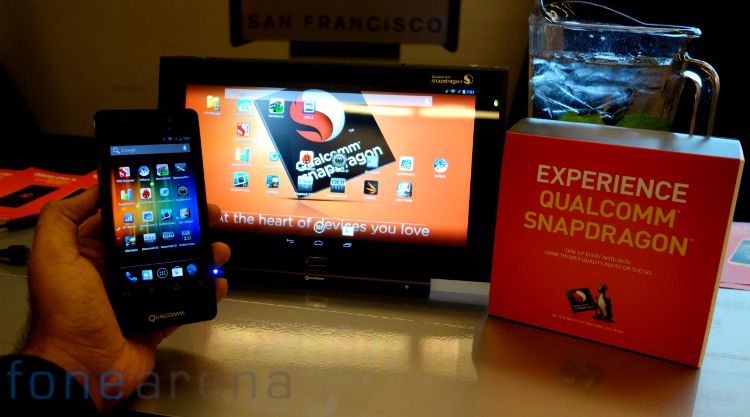 We are here in San Francisco on invitation from Qualcomm to benchmark their Snapdragon 800 processor (MSM8974) which features a 28nm HPm quad core Krait 400 CPU capable of running at 2.3 GHz per core and the new Adreno 330 GPU. It is expected to be the fastest mobile processor in the market and even beat the Samsung Exynos 5 Octa and Qualcomm's own Snapdragon 600 processor in terms of benchmarks and performance. Dive in and take a look at the jaw dropping numbers in the Benchmarks.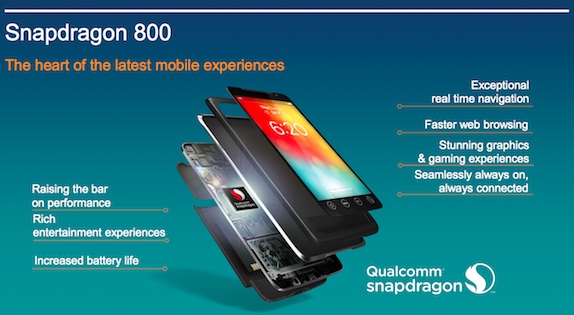 Highlights
Capture, playback and display in UltraHD video (with four times 1080p pixel density)
Dual Image Signal Processors for Snapdragon Camera support simultaneous camera/video, ultrafast 640 Megapixel/second capture speeds and computational camera
HD multichannel audio with DTS-HD and Dolby Digital Plus for enhanced audio
Higher display resolutions (up to 2560×2048) and Miracast 1080p HD support
LP-DDR3 memory for high performance and low latency
Updated Adreno 330 GPU delivers up to 50% increase in graphics performance1
Support for advanced graphic and compute APIs, including OpenGL ES 3.0, DirectX, OpenCL, Renderscript Compute and FlexRender
Support for popular middleware and game engines like Unity, Epic, and Unigine
True 4G LTE World Mode, supporting LTE FDD, LTE, TDD, WCDMA, CDMA1x, EV-DO, TD-SCDMA and GSM3
4G LTE with Carrier Aggregation for speeds up to 150 Mbps
New USB 3.0 for ultra-fast transfers
802.11ac Wi-Fi for peak Wi-Fi performance
IZAT location technology combines multiple location services into a single high performance navigation system for auto and pedestrian applications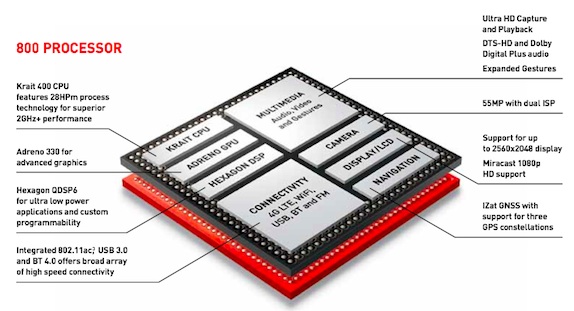 The Snapdragon 800 series was announced at the CES 2013 earlier this year. Recently Qualcomm announced the support for Windows RT 8.1 tablets.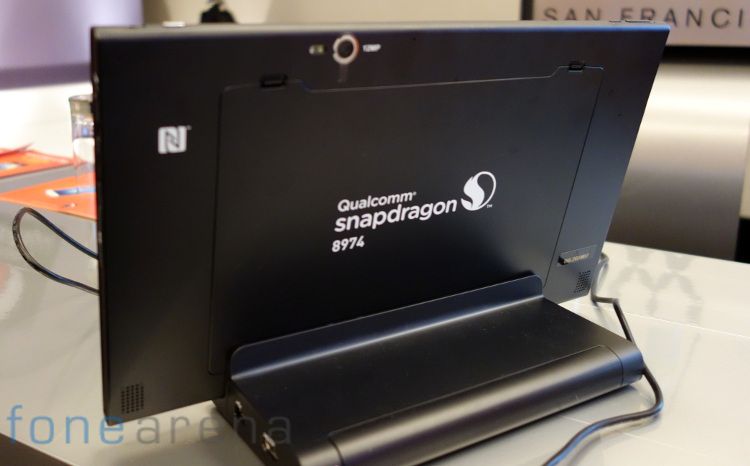 Here are some benchmarks we ran on the Snapdragon 800 reference devices at the event.
Quadrant
The Snapdragon 800 scores 21661 in Quadrant  and is almost 1.7X faster than the Snapdragon 600 processor and it manages to even beat the Samsung Exynos 5 Octa processor which has 2 quadcore processors. It is amazing to compare the performance to Qualcomm's Snapdragon S4 Pro or APQ8064 which they let us benchmark last year. It is almost 3X-5X in terms of the Quadrant score.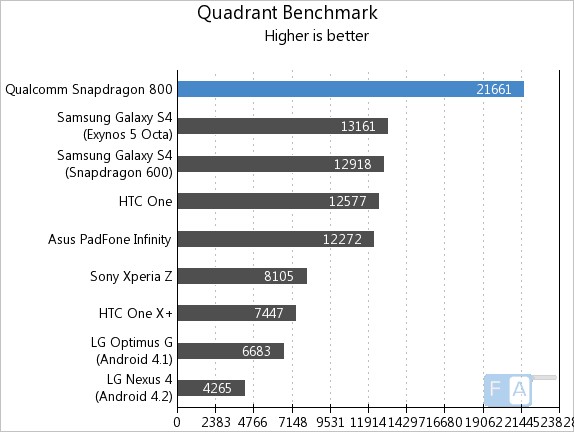 AnTuTu
The Snapdragon 800 comes out at the top yet again in the AnTuTu benchmark test and is over 8000 points ahead of the previous leader in the test – the Exynos 5 Octa.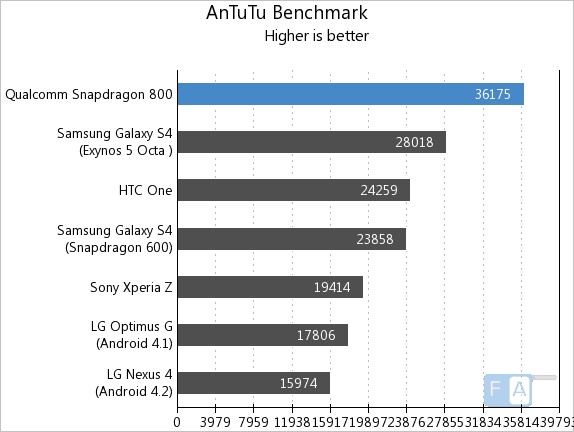 Vellamo 2.0
We clocked about 3008 points in Vellamo which is a HTML 5 test which mainly measure mobile browser performance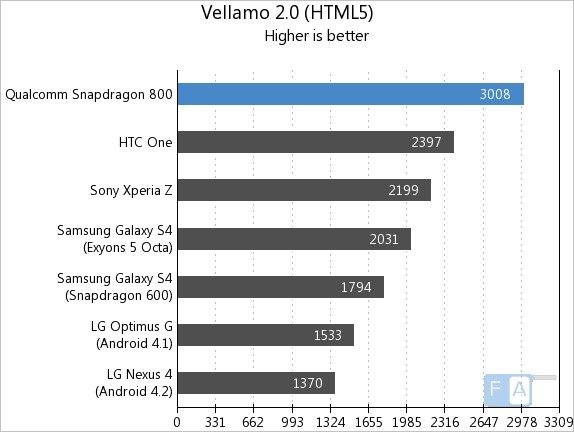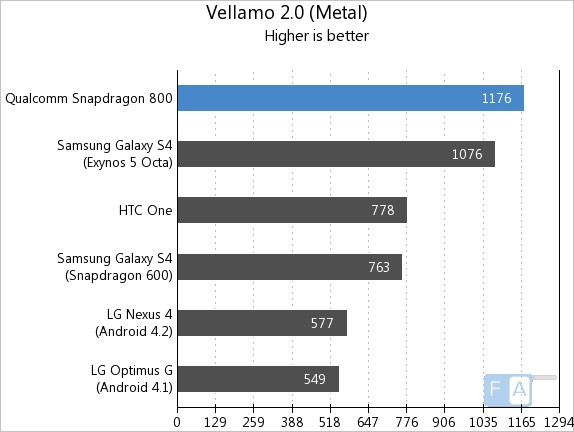 Linpack
This is a benchmark which indicates Javascript performance. Here is the Snapdragon 800 on the top of the chart in both the Single thread and Multi- thread tests.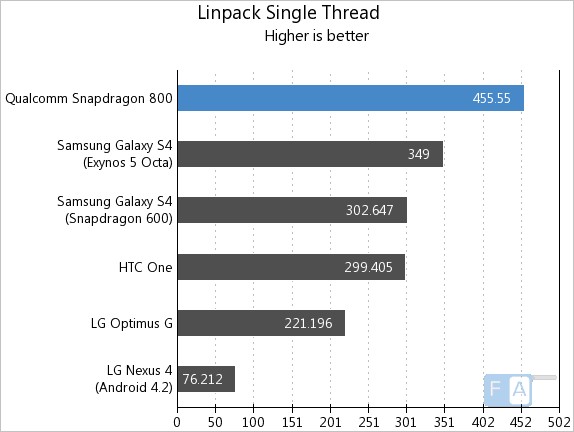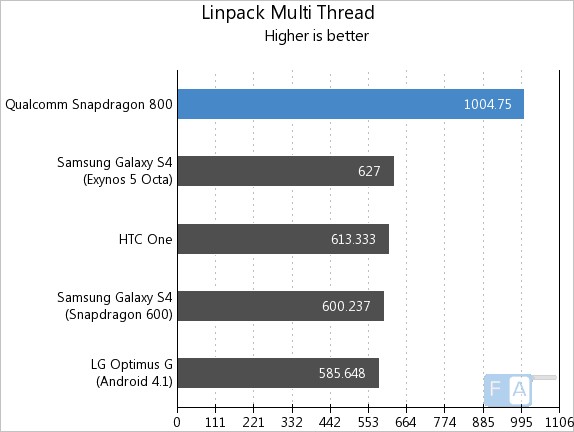 Sunspider
Great improvement in Sunspider test over the Snapdragon 600 can be seen in the Snapdragon 800.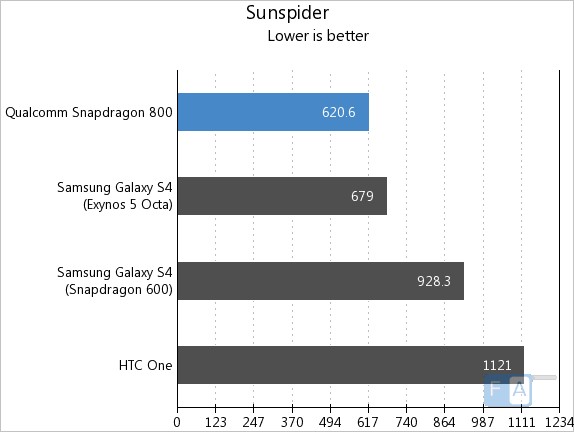 NenaMark 2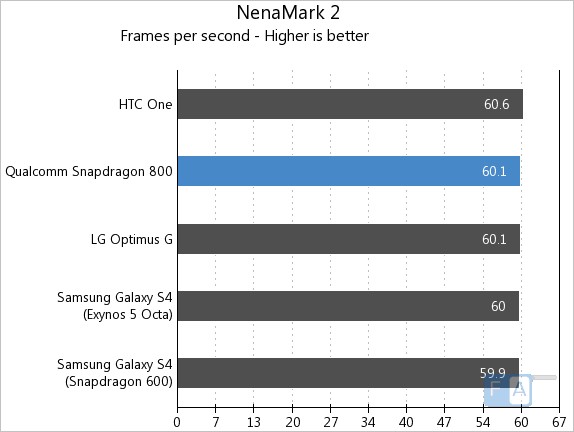 GLBenchmark 2.5 Egypt HD OnScreen
The graphic performance is exceptional. As you can can see, the performance is 50% better than Adreno 320.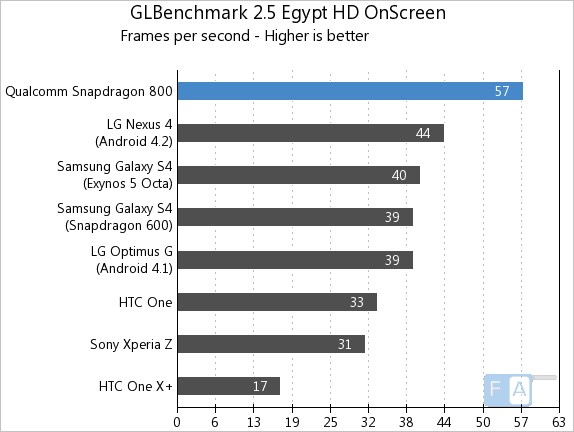 GLBenchmark 2.7 T-REX HD OnScreen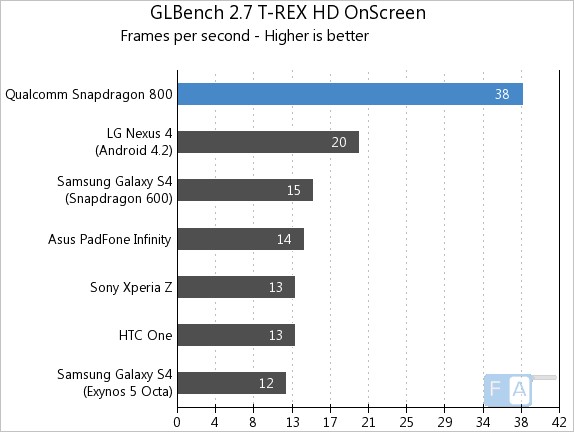 Basemark X – On Screen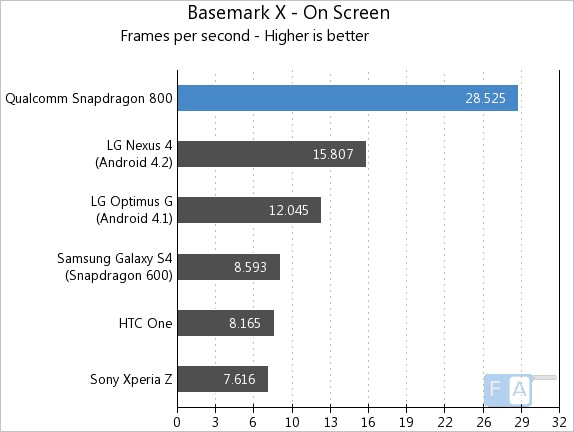 Basemark X – Off Screen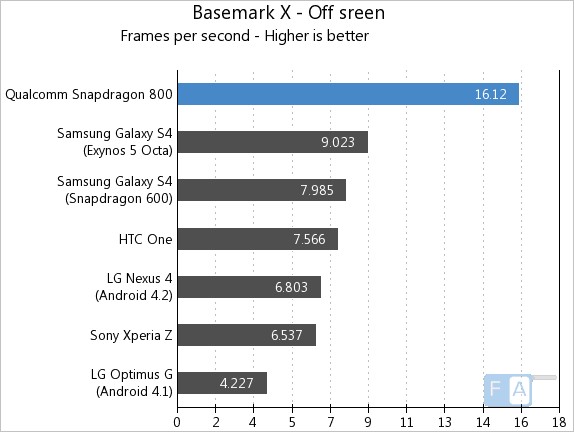 Again the graphic performance is exceptional compared to other devices. All these values are tested on Snapdragon reference smartphone, so the values for tablets would differ. You can check the screenshots with the benchmark scores including some that are not in these graphs in the gallery below.
While the devices we played with were not commercial devices, Qualcomm told us that commercial devices will have performance pretty close to what we saw today in these tests. On that note Snapdragon 800 looks super powerful and we are curious to see how device makers would tap the potential of the newest dragon in the Snapdragon family.It looks like one of the most powerful chips to come out from Qualcomm and it would be interesting to see how real world battery life is on devices powered by this chip.