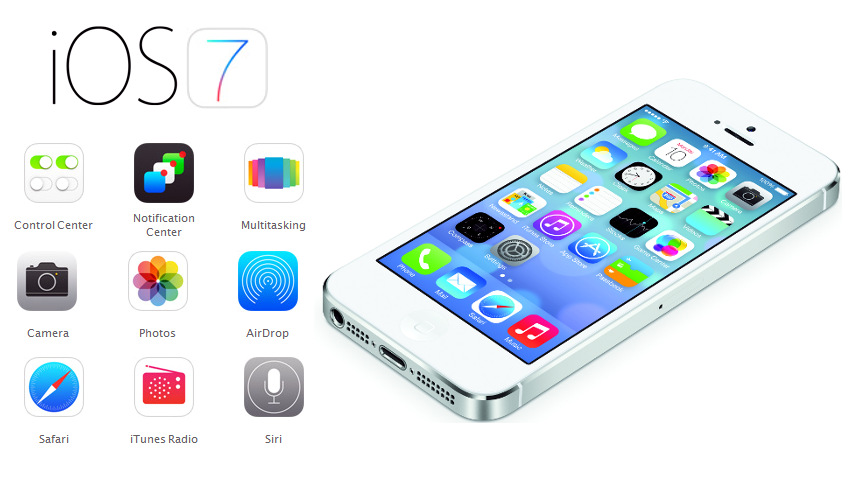 Apple has finally announced the iOS7, the most expected iOS update at the WWDC 2013. It is the successor of the iOS 6 that was released last year. The iOS 7 is the most significant iOS update since the original iPhone that brings a whole new simplistic user interface with redesigned fonts. It also brings new features such as Control Center, AirDrop for iOS, smarter multitasking and lots more features.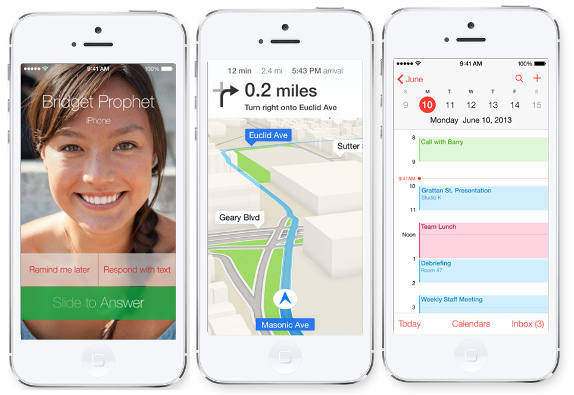 iOS 7 has a new structure, applied across the whole system. Unnecessary bars and buttons have been removed. Phone, Maps, Calendar, Mail, Music, Messages, Weather, Clock, Videos, Notes, Stocks, Passbook, Newsstand, Compass, Contacts, Calculator, FaceTime, all the built-in apps have been redesigned to match the new simplistic User Interface.
New features in the iOS 7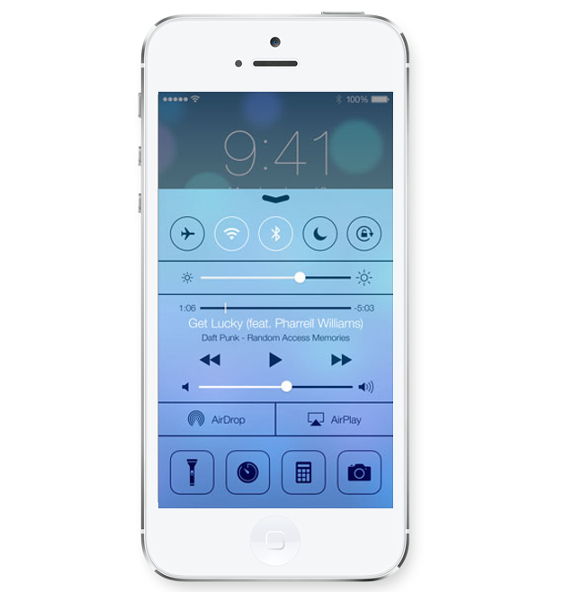 The new Control Center has all in one controls just by swiping from the bottom of your screen. You have toggles for Airplane Mode, Wi-Fi, Bluetooth and Do Not Disturb,. You can also adjust screen brightness, pause or play a song, jump to the next track and stream your music with AirPlay. It also lets you access Clock, Camera, Calculator and the Flashlight.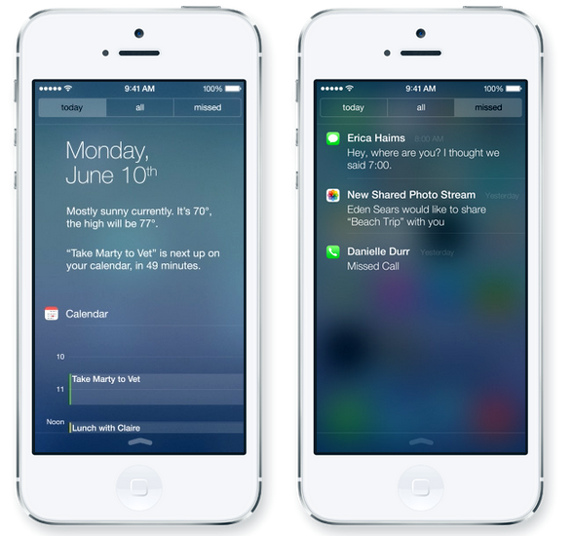 The Notification Center can now accessed from any screen, including the Lock screen with a simple swipe. The new Today feature gives you an at-a-glance view of your day with a summary of the important details such as weather, traffic, meetings and events. The new All and Missed views let you see all your alerts or just those you haven't addressed in the last 24 hours. It has new Notification sync feature dismisses a notification on all of your devices when you dismiss it on one device .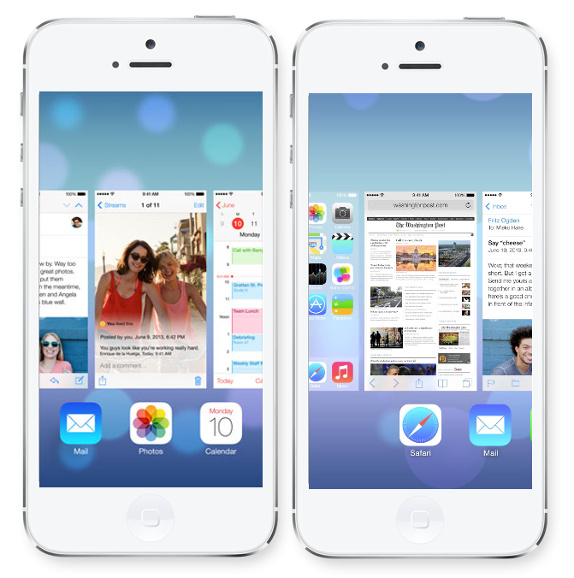 iOS 7 has improved Multitasking that offers developers the ability to enable any app to multitask in the background with a new API. It learns when you like to use your apps and automatically keeps your content up to date in the background.  You can press the Home button twice to see preview screens of the apps you have open and just swipe it up and out of preview to quit.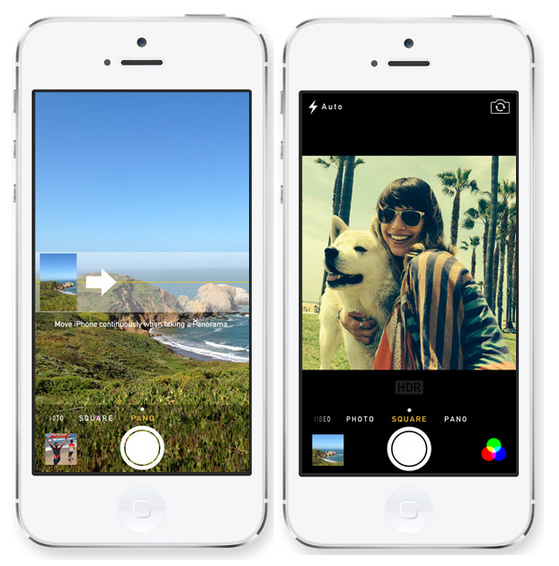 The new Camera app has new UI. It features filters so you can add real-time photo effects, square camera option, Panorama and option to quickly and easily switch between your four cameras – video, photo, square and panorama, with just a swipe.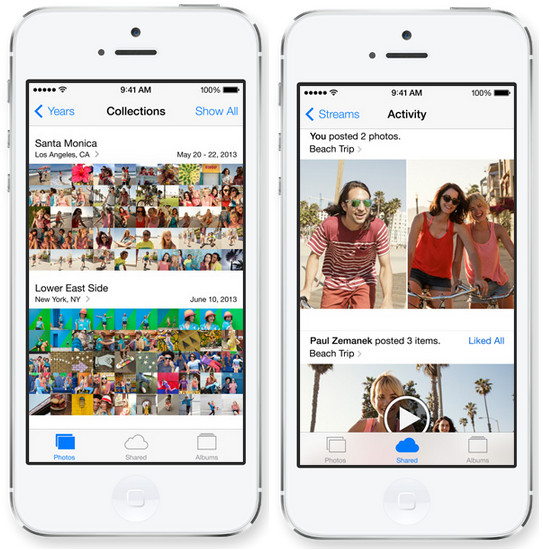 The redesigned Photos app has the new Moments that automatically organize your photos and videos based on time and location. You can zoom out to see all your photos organized by Moments, Collections of Moments and Years The iCloud Photo Sharing lets family and friends contribute their own photos and videos to your shared photo streams, and the new Activity view displays updates from your shared streams all in one place.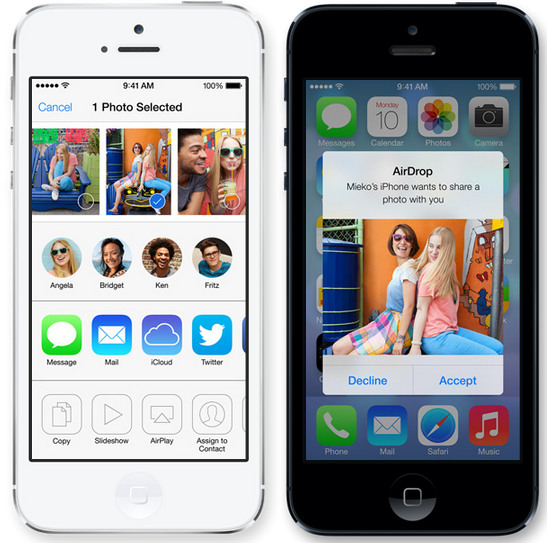 The AirDrop features lets you quickly and easily share content with people nearby. You're automatically visible in AirDrop to your contacts running iOS 7. Just select who you want to share with and AirDrop does the rest. Transfers are peer-to-peer so you can use it anywhere, without any network or set up required, and transfers are fully encrypted so your content is protected and private.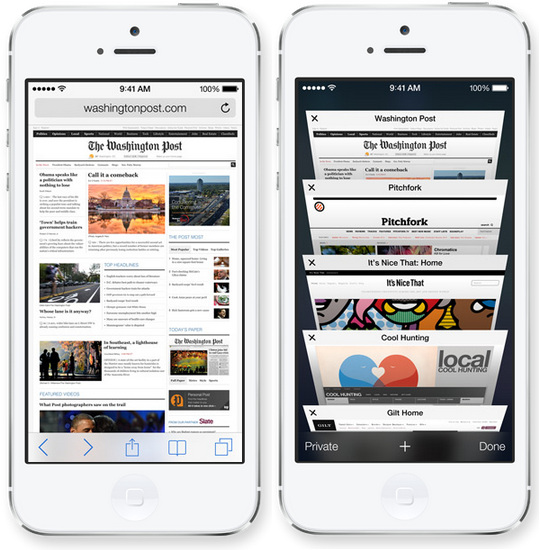 New Safari in the iOS 7 has  redesigned user interface including full-screen browsing. The new smart search field helps simplify searching by automatically suggesting the closest match to what you're looking for as you type. It has bookmarks and your Safari tabs. The iCloud Keychain stores your passwords and credit card information securely and syncs with all your devices. This has enhanced Parental Controls that allow you to automatically block access to adult websites or only allow access to a specific set of permitted websites.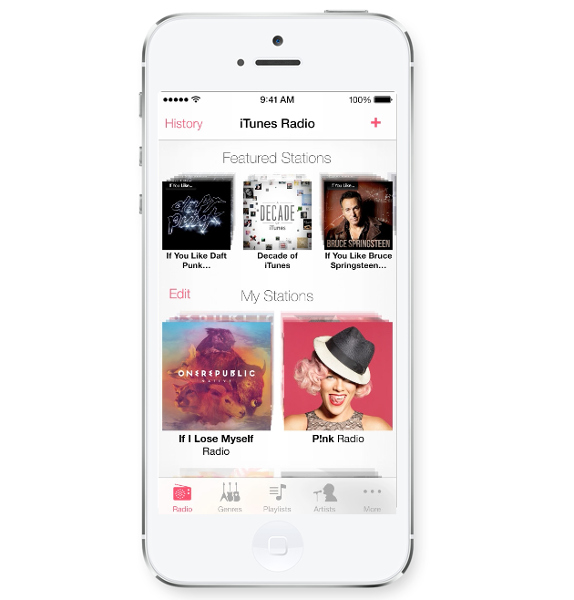 The Music app has a beautiful new design and includes the new iTunes Radio You can access featured Stations, stations inspired by music you choose or already listen to, and more than 200 genre-based stations. It would be available later this year.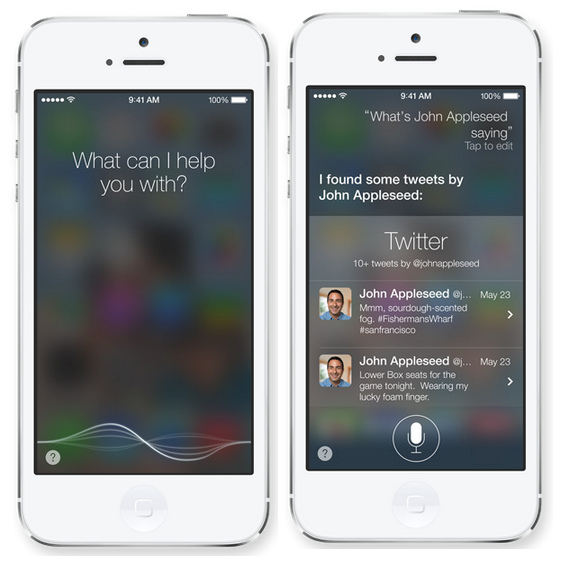 Siri now has new male and female voices and includes Twitter search integration, Wikipedia integration, Bing web search and the ability to change device settings and play back voicemail. Now when you ask Siri something, audio waves move across your screen, letting you know Siri is listening and processing your request.
It also has lots more new features. The new App Store has Apps Near Me feature that shows a collection of popular apps relevant to your current location. And a new Kids category spotlights the best apps for children based on age.Find My iPhone can continue to display a message with your phone number on the Lock screen. If you get your iPhone back after you've already erased it, just enter your Apple ID and password to reactivate it.
The iOS 7 beta software and SDK are available for iOS developer program members at the Apple developer's site and would be available this fall for the iPhone 4 and later, iPad 2 and later, iPad mini and iPod touch (fifth generation). Some features may not be available on all products.