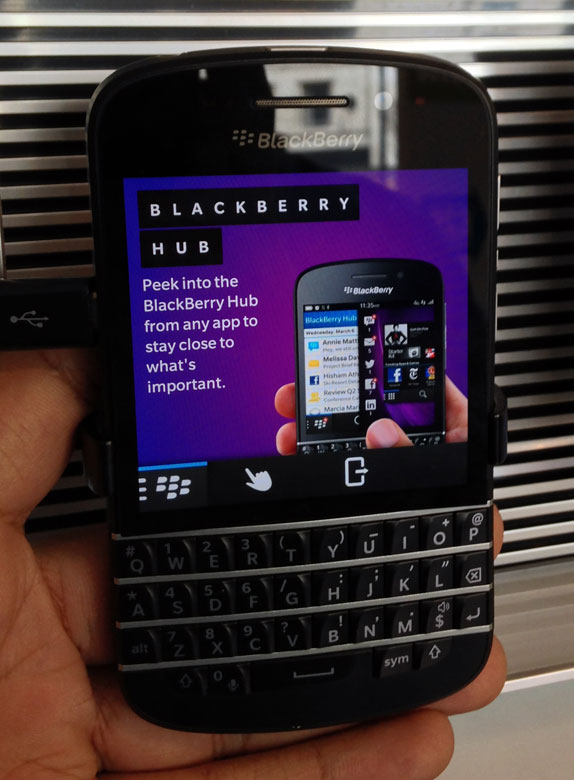 BlackBerry showed off the BlackBerry Q10 alongside the first BlackBerry 10 device the Z10 during the BlackBerry 10 launch event back in January this year.  The Q10 is already on sale in the UK where I got my hands on one. Now the 2nd BlackBerry 10 device is making its way to India. The company has sent to invites for a launch event in Delhi on June 6th and is expected to announce the Q10 for the Indian market.
In terms of specs the Q10 packs a 3.1 inch AMOLED display and the iconic BlackBerry keyboard . There is an 8MP camera on the back capable of 1080p video capture . There is 16GB of inbuilt memory along with a microSD card slot.It is powered by a dual-core processor and packs 2GB of RAM  and a 2100 mAh battery.
BlackBerry is famous for its QWERTY keyboard and many users were disappointed when the company announced the Z10 which is a full touchscreen device.But BlackBerry CEO Thorsten Heins did confirm that the Q10 with a QWERTY keyboard was coming later this year.And now there is good news for all the QWERTY  Keyboard  lovers in India ! The Q10 is hitting India soon. No word on the pricing yet but we expect it to be priced similar to the Z10 in the Rs.35000-40000 range. If you are looking for cheaper BlackBerry 10 device , you might have to wait a little longer for the Q5.