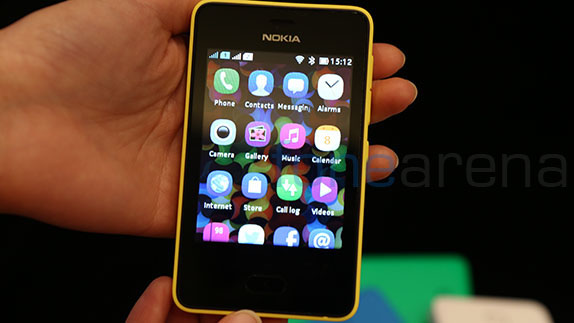 Nokia Asha 501, a new full touch device with swipe UI, and part of a whole new Asha series of devices has been announced at a global press conference here, in New Delhi. In an effort to revitalize the ever important budget low end smartphone market, which is currently inundated with Android phones, Nokia has released a tiny device that, they hope, can help them gain more traction in the highly competitive market. The Asha platform with touch UI. It initially debuted with the Asha 311 and the other full touch Asha phones, now it has been rehauled with more UX elements from the N9's Meego user interface, complete with the double tap to wake gesture and the minimalistic homescreen setup. The device sports a 3 inch QVGA screen with hardened glass and is powered by a 1 GHz processor.
Having repeatedly leaked on Twitter, one of them revealed its six colourful shells in a leak last night. The available colours, which are also replaceable shells, come in Bright Red, Lemon Yellow, Parrot Green, Ice Blue, White and Black. The device has 128 MB of internal memory and comes with a 4GB micro SD card out of the box, with options of expanding the memory upto 32 GB. It also comes in single SIM variant. Priced at $99  (~Rs. 5,347) without taxes and subsidies, it is expected to shipping in June 2013 from approximately 60 operators and distributors in more than 90 countries worldwide.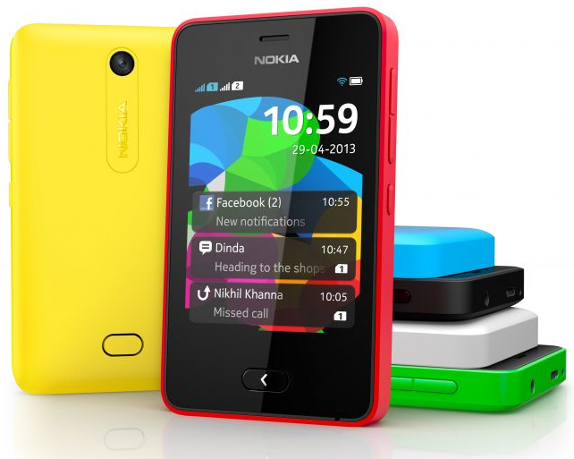 Here are the complete specifications of the device –
3.0-inch QVGA 320 x 240 pixels display with hardened glass
1 GHz processor
3.2MP camera
Dimensions: 99.2 x 58 x 12.1 mm; Weight: 98 g
128 MB of internal memory with 4GB micro SD card provided in the box
Dual SIM(with one slot capable of hot swap), with 2G, WiFi, Bluetooth and FM Radio
Nokia Asha software platform with Swipe UI
40 free EA Games downloadable from Nokia Store
Available colours: Bright Red, Bright Green, Cyan, Yellow, White and Black
1200 mAh battery with up to 17 hours of talktime and up to 48 days of standby (Dual SIM standby time: up to 26 days)
The software on the Asha 501 has received quite the upgrade over the previous version, with new features such as fast lane, a revamped UI for the status bar, fast switching of the default SIM and a lot more. In addition to that, Nokia have pre-installed their Xpress browser, which can actually minimize data consumption thanks to server side compression. There is also the Xpress Now web app which uses your location to deliver relevant news and updates to the browser.
You can check out our Nokia Asha 501 photo gallery and hands on demo for further information. Stay tuned for more.
[Update: Check out the Nokia Asha 501 hands-on and Photo gallery]