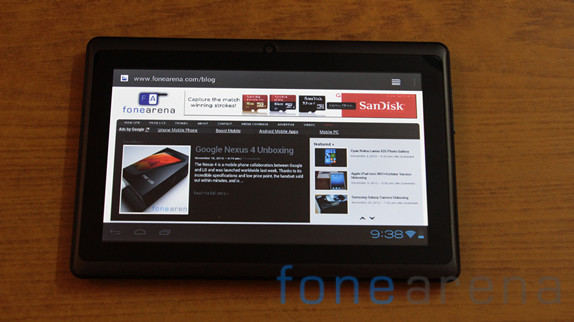 Datawind, the company behind the low-cost Aakash tablets has announced that they have completed the Aakash 2 project by supplying 100,000 Aakash low-cost computing devices for IIT-Bombay (under the Indian Government's Ministry of Human Resources Development's National Mission for Education through Information Communication Technology). DataWind won the international tender to supply Aakash 1 devices at a cost of $49.98. It was modified to 98,000 Aakash2 devices and 2,000 devices with DataWind's recommendations for Aakash3 at a cost of Rs.2,263 (~$41.61).Commercial version of the Aakash 2, the Ubislate 7Ci went on sale last November, and we reviewed it at the end of last year. The company launched the UbiSlate 7C+ Edge at a price of Rs. 5999, which would be DataWind's recommendation for the Aakash 3. The Aakash 3 tablet would come with a built-in quad-band EDGE modem, which would do away with the need for a separate dongle that costs about 50% of Aakash tablet.
Other features are similar including a 7-inch (800 x 480 pixels) capacitive touch screen display and Android 4.0 (Ice Cream Sandwich). It is powered by 1 GHz Cortex A8 processor and has 512MB of RAM, 4GB of internal memory and a front-facing camera. Specifications for the Aakash 4 is being prepared by the appropriate government. It is expect to include SIM card slot for network connectivity and voice calling features.
The company has announced that they have completed deliveries of its pre-paid backlog. Less than 1% of pre-paid backlog customers remain pending, due to lack of courier coverage or contact information.  New deliveries for DataWind's UbiSlate devices are now processed within 72 hours.