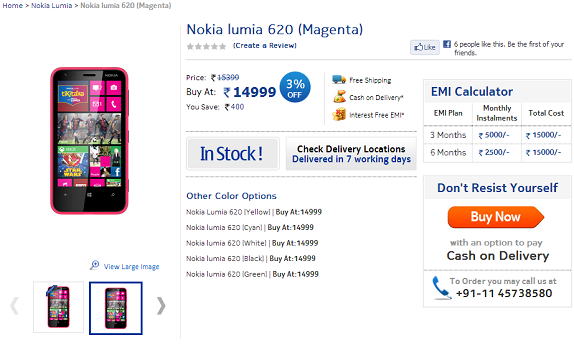 Yes, the cat is finally out of the bag. Nokia Lumia 620, the company's mid range Windows Phone 8 device that has been much awaited in the Indian market, has finally gone on sale in the Nokia India online shop. The currently available colours on sale are Cyan, Green, White and Magenta while the Yellow and Black variants are still shown as "Coming soon", but we think it's a work in progress at the site, and it might be available soon too. All the colour variations are priced at Rs. 14,999/- with delivery marked as "within 7 days" meaning it is already hitting retail anytime now.
The Lumia 620 is a great little device that we have been lusting over for quite a while now. It has a 3.8 inch TFT screen at 800×480 resolution and has really attractive dual layer shells that are replaceable. When it was announced in India, the availability of the device was not revealed and we ended up waiting for almost two months since the announcement to get this sweet little device.
The highlights of this device are –
3.8 inch WVGA 800×480 TFT display with CBD technology
Seven colours, exchangeable just like the 820
Snapdragon S4+ MSM8227 with Adreno 305 GPU and 512 MB of RAM
8 GB of mass memory and expandable with a Micro SD card slot
5 MP AF camera with 720P video recording and HAAC Audio recording(Rich Recording)
NFC, 3G, Bluetooth with file transfer
Runs Windows Phone 8!
And bonus is, it has a front facing camera too, making it one of the most complete mid range devices unlike its predecessor, the Lumia 610. So, are you excited for the device? Will this be Nokia's blockbuster? Do let us know in the comments section below.
Source Nokia India Online Shop